Our products
Single seal - Pressed steel covers
Our pressed steel covers are available in a comprehensive range of sizes and weight loadings and a choice of steel or polypropylene frames. They are suitable for infrequent and slow moving traffic situations.
Single seal is achieved by a simple labyrinth arrangement enhanced by the continuous surface of the cover at the corners. The labyrinth can be filled with grease providing a low to moderate level of resistance to gaseous and/or liquid ingress and/or egress under normal atmospheric pressure.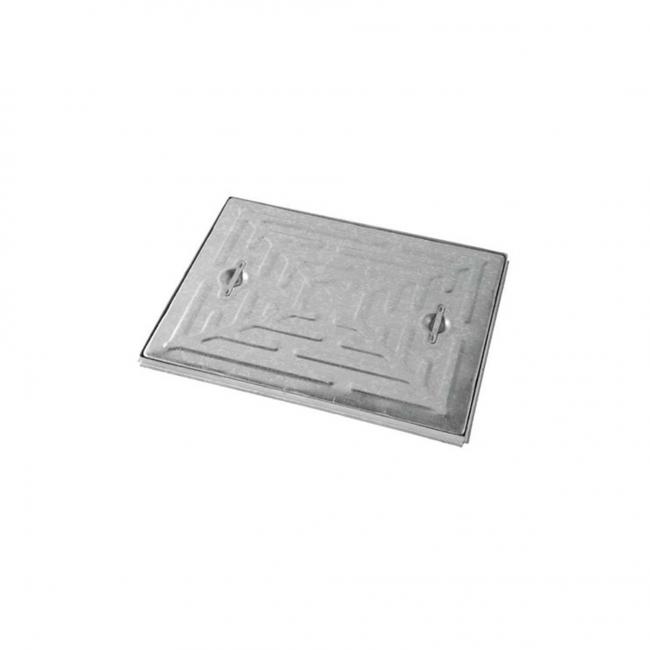 Hot dipped galvanised for long life performance.

Keyway lifting points.

Integrated lifting handle.
Products
Access covers
Stock code
Range
Overall top of frame
Clear opening
(C x D)
Frame depth
(E)
Load duty
Wrekin loading code
Datasheet
My Wrekin
C211K/030030PSF
345 mm x 345 mm
300 mm x 300 mm
26 mm
Pedestrian
K
C211K/045045PSF
495 mm x 495 mm
450 mm x 450 mm
25 mm
Pedestrian
K
C211K/060045PSF
645 mm x 495 mm
600 mm x 450 mm
25 mm
Pedestrian
K
C211K/060060PSF
645 mm x 645 mm
600 mm x 600 mm
25 mm
Pedestrian
K
C211L/045045PSF
495 mm x 495 mm
450 mm x 450 mm
25 mm
Domestic light duty
L
C211L/060045PSF
645 mm x 495 mm
600 mm x 450 mm
25 mm
Domestic light duty
L
C211L/060060PSF
645 mm x 645 mm
600 mm x 600 mm
25 mm
Domestic light duty
L
C211M/045045PSF
495 mm x 495 mm
450 mm x 450 mm
25 mm
Light / medium duty
M
C211M/060045PSF
645 mm x 495 mm
600 mm x 450 mm
25 mm
Light / medium duty
M
C211M/060060PSF
645 mm x 645 mm
600 mm x 600 mm
25 mm
Light / medium duty
M
C211MP/060045PSF
645 mm x 495 mm
600 mm x 450 mm
25 mm
Light / medium duty
M+
C211N/060045PSF
645 mm x 495 mm
600 mm x 450 mm
25 mm
Medium duty
N
C211N/060060PSF
645 mm x 645 mm
600 mm x 600 mm
25 mm
Medium duty
N