Reliable reinforcement
E'GRID™
E'GRID is our premium range of biaxial geogrids, offering a 100 year design life. Available in a wide choice of roll sizes, including large aperture variants, E'GRID uses a proven square shape which has been installed in real world applications for over 40 years. Proven through independent, peer reviewed testing, unlike its alternatives, E'GRID gives specifiers and contractors confidence in a long-lasting solution that's quick and simple to install while providing significant cost and CO2e savings.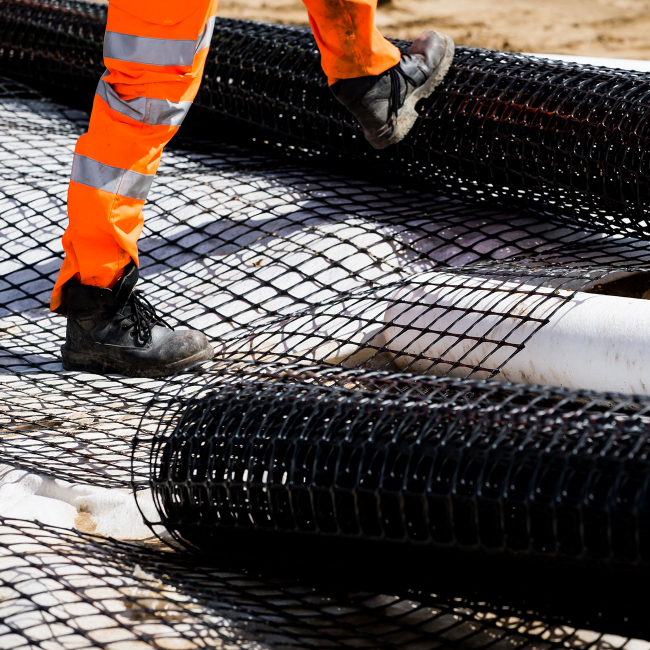 E'GRID biaxial geogrids can solve pavement problems by providing reinforcement to granular sub-bases, capping layers & railway ballasts in areas of weak or variable soils. When granular particles are compacted over a geogrid, they partially penetrate and project through the apertures, creating a strong and positive interlock.
The load dispersal effect provided by E'GRID combined with the interlocking mechanism provides increased shearing resistance within soils. This improves compaction and allows the sub-base thickness to be decreased by up to 50%, providing significant reductions to construction time and costs. Carbon emissions are also massively reduced across projects, as less aggregate is required. Removing emissions from the extraction, processing, transport and installation processes.
The tough platform created provides tremendous load dispersal, allowing previously weak soils to be reclaimed for foundations, motorways, railways and airport runways.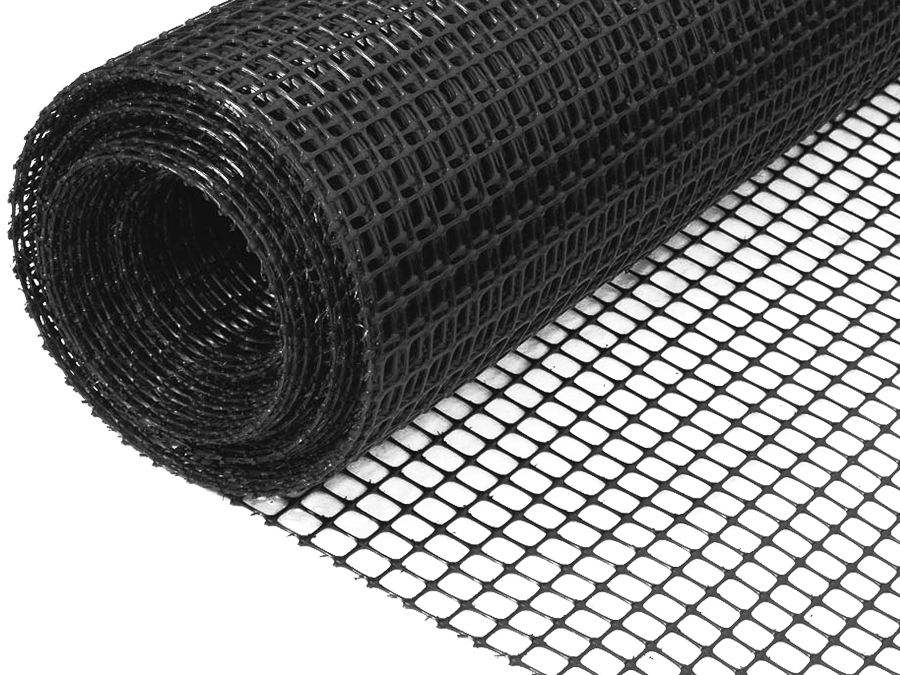 Achieve significant savings
Reduce your projects carbon emissions
Wrekin geogrids can play a significant role in reducing carbon emissions across a project. There's numerous ways this is achieved, including:
By reducing the amount of earthworks required on-site before the grids go into the ground. This reduces the amount of plant required, and their associated emissions.
Reducing the thickness of a haul road, compound or similar. This thickness is created with aggregate which requires extraction, processing, and transport. By minimising the aggregate you will significantly reduce embodied carbon. Wrekin geogrids can provide equivalent load bearing capabilities to sub-bases twice as thick, providing aggregate savings of up to 50%.
Minimising the likelihood of repairs. Geogrids provide reinforcement, leading to higher quality, stronger sub-bases, which can result in longer lasting and harder wearing installations, requiring less repairs and maintenance.

Find out how much money and carbon you can save
When constructing a temporary road you can save money and decrease your carbon footprint by using a Wrekin biaxial geogrid to dramatically reduce the amount of aggregate required on your project.
Our easy to use calculator can give you an estimation of cost and carbons savings.
Applications for E'GRID
E'GRID is a versatile, premium quality biaxial geogrid, providing strong reinforcement to weak sub-bases across a wide variety of applications.
Compounds and haul roads
Achieve an economical design with rapid delivery and reduced costs on your compound or haul road.
Compounds and haul roads
Working platforms
Safety is critical, quickly increase the bearing capacity and reduce platform thickness with E'GRID.
Working platforms
Paved roads
Whether a rigid or flexible pavement, E'GRID can provide increased strength and stiffness to a roads foundation with a 100-year design life.
Rail
Minimise track settlement and degradation, by providing granular confinement for increased longevity with reduced costs. E'GRID 3030L is Network Rail approved.
Network Rail approved
Car parks
Whether paved or unpaved, the interlocking mechanism provided by E'GRID will increase performance with lower upfront and whole-life costs.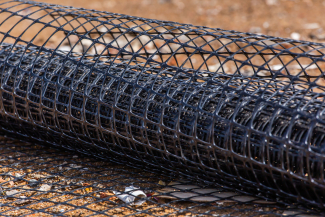 Benefits
Superior reinforcement
E'GRID provides superior reinforcement to soft and unstable ground when compared to traditional methods of reinforcement. It achieves this by providing a strong interlock to infill, dispersing weight and forces efficiently.
Faster construction
E'GRID can help you to accelerate your construction programmes. As a simple to install system, it requires minimal ground preparation and can minimise the impacts of weather on your schedule.
Significant carbon savings
E'GRID reduces the amount of infill needed on a project by up to 50% when compared to traditional methods of reinforcement. This can provide huge savings in CO2e. In fact, over 43,000 trees would need to be planted to absorb the equivalent CO2 not created thanks to E'GRID installations in 2022.
Cost savings
Achieve cost savings of up 40% thanks to a reduction in requirements of labour and plant costs.
Products
| Stock code | Product name | Description | Datasheet | My Wrekin |
| --- | --- | --- | --- | --- |
| GGEGRID/20 | E'GRID 2020 | Premium Biaxial Geogrid Polypropylene - 4m x 50m roll | | |
| GGEGRID/30 | E'GRID 3030 | Premium Biaxial Geogrid Polypropylene - 4m x 50m roll | | |
| GGEGRID/30L | E'GRID 3030L | Premium Biaxial Geogrid Polypropylene, large aperture - 4m x 50m roll | | |
| GGEGRID/40 | E'GRID 4040 | Premium Biaxial Geogrid Polypropylene - 4m x 30m roll | | |
| GGEGRID/40L | E'GRID 4040L | Premium Biaxial Geogrid Polypropylene, large aperture - 4m x 30m roll | | |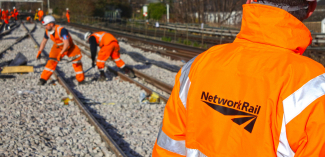 Network Rail approval for E'GRID

E'GRID 3030L is approved by Network Rail with Certificate of Full Acceptance number PA05/05826.
To achieve this E'GRID underwent a vigorous auditing process, including having to provide justification for the product by demonstrating its monetary, safety and performance benefits to Network Rail.
E'GRID 3030L polypropylene biaxial geogrid features a large aperture, suited to reinforcing the railway ballast layer. This reduces ballast settlement and extends the time between subsequent maintenance work following ballast renewal. The reinforcing element is a Specific Condition of Network Rail acceptance, which requires CE Marking in accordance with BS EN 13250 for reinforcement materials used in contact with ballast.
The high tensile strength design of E'GRID is widely recognised as an effective method of stabilising ballast or soil through reinforcement. The high-strength polymer grid interlocks with the ballast or stone, confining the material to improve load dispersal and limit lateral movement under load.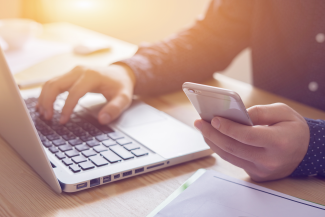 Contact us
Whether you are looking for live project support, or are in the initial stages of specification, we are always on hand and happy to help.