Our products
High Density Polyethylene Impermeable Geomembrane
HDPE Geomembranes are the most commonly specified liners in the construction industry. Tried and tested the HDPE membranes are resistant to most chemicals, are extremely robust and have a high stress fracture resistance. HDPE liners are available in 0.75mm, 1mm, 1.5mm, 2mm, 2.5mm and 3mm sheet thickness.
HDPE liners are suitable for Anearobic Digestion applications, barriers against Hydrocarbons and protecting against the ingress of harmful soil based gases such as methane, carbon dioxide and radon.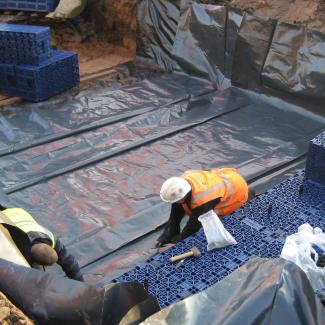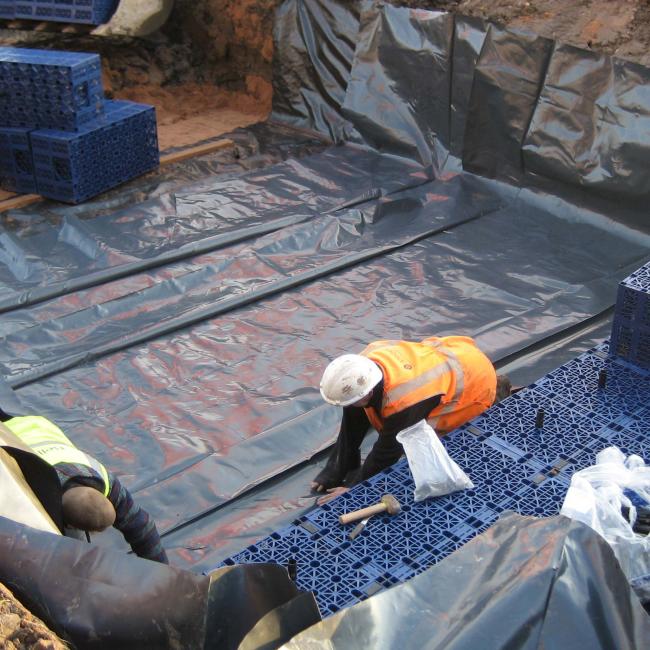 Our technical team can advise on product selection appropriate to the application and full installation method statements.
We can supply the suitable tapes for lapped and taped jointed situations or we can offer a full design, supply and installation option providing the client with the comfort that the selected system will be installed correctly ensuring long term performance of the installed Geomembrane.
Applications for HDPE
Ponds
Lagoons
Anaerobic digestion ponds
Gas barriers
Hydrocarbon barriers
Swales
Attenuation tanks
HDPE Geomembranes specification
Properties
Test method
Unit
0.7
1.0
1.5
2.0
2.5
3.0
Surface
Smooth both sides
Thickness (min. ave)
ASTM D 5199
mm
0.75
1.0
1.5
2.0
2.5
3.0
Lowest individual of 10 values
-10%
-10%
-10%
-10%
-10%
-10%
Density (max)
 
ASTM D 1505
g/cm2
0.94
0.94
0.94
0.94
0.94
0.94
Tensile properties (min. ave)
Yield strength
ASTM 6693 type IV
kN/m
12
17
25
33
42
48
Break strength
kN/m
24
30
45
58
75
85
Yield elongation
%
12
12
12
12
12
12
Break elongation
%
750
750
750
750
750
750
Tear resistance (Min. ave)
ASTM D 1004
N
100
130
190
280
340
380
Puncture resistance (min. ave)
ASTM D 4833
N
300
350
550
700
850
1000
Stress crack resistance
ASTM D 5397
hour
300
300
300
300
300
300
Carbon black content
ASTM D 4218, ASTM D 6370
%
2-3
2-3
2-3
2-3
2-3
2-3
Carbon black dispersion
ASTM D 5596
Category
min. 9 in Categories 1 and 2 and max. 1 in Category 3
Oxidative Induction Time (OIT) (min. ave) Standard OIT
ASTM D 3895
min.
100
100
100
100
100
100
Oven aging at 85oc Standard OIT (min. ave) % retained after 90 days
ASTM D 5721, ASTM D 3895
%
55
55
55
55
55
55
Standard roll dimensions
Roll length
m
100
100
150
120
100
85
Roll width
m
5.1 or 8.0
Roll area
m2
510
1020 or 1600
765 or 1200
612 or 960
510 or 800
434 or 680