Our products
FasTrack™ SG
FasTrack woven geotextiles are manufactured from polypropylene tapes, offering the perfect cost-effective solution for reinforcement, separation, filtration and drainage applications
FasTrack SG is used in areas such as access roads and hard standings, car parks and coastal defence projects. One of its primary uses is in separation applications where there is a requirement to prevent intermixing of soft in-situ soils with good clean granular fill.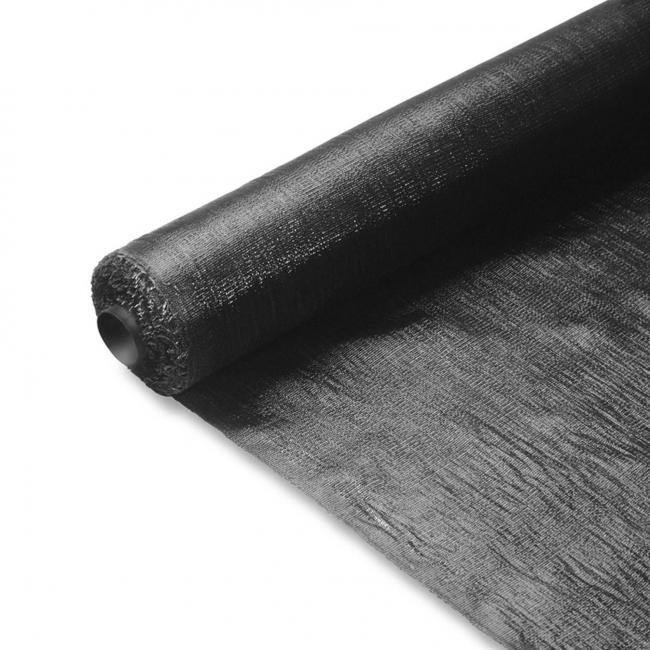 Manufactured from polypropylene tapes which are tightly woven, the strong weave of the material allows water can pass over easily to be directed to another source. Erosion is considerably reduced as water is sent in a different direction, and does not descend vertically into the ground. FasTrack is excellent at separating different types of soils to keep them protected and stable, which is especially important when separating dangerous types of soil.
FasTrack is available in a range of standard strengths and roll sizes. In addition, FasTrack Orange provides the perfect solution to alert workers of potential danger during excavation, the high vibrancy geotextile will alert operatives to potential dangers.
Compared to nonwovens geotextiles, FasTrack SG provides a greater mechanical strength per unit weight, providing a cost efficient and reliable solution for roads and temporary access roads.
Specification at a glance
|   | FasTrack |
| --- | --- |
| Construction | 100% Polypropylene Tapes |
| Geotextile tensile strengths (MD/TD) | 16/16 to 60/60 kN/m |
| CBR puncture resistance | 1.6 to 5.6 kN |
| Roll dimensions | 4.5 or 5.25 x 100m |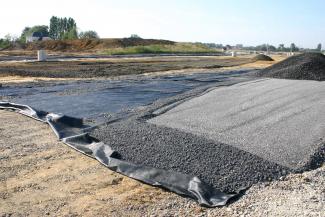 Benefits
Maximum strength
The mechanical properties of FasTrack offer maximum strength at a minimal cost. FasTrack provide greater mechanical strength per unit weight compared to comparable nonwovens.
Water flow rates
FasTrack enables water flow rates normal to the plane greater than those stipulated in the design.

Carbon reduction
Achieve a significant reduction in the carbon footprint and costs of your project compared to traditional methods.
Resistant
Resistant to acids and alkalis at ambient temperatures with high biological resistance.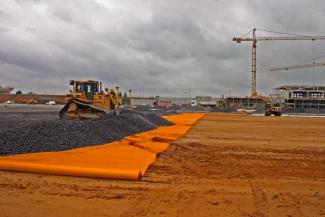 FasTrack Orange
FasTrack Orange woven geotextile is based on our ever popuar FasTrack 609. It provides excellent performance for projects that require erosion control. The bright orange colour alerts contractors to avoid cross-contamination of soil types, such as the danger of further excavation which may lead to contaminated soil bleeding into safe soil.
It also helps to direct the water elsewhere and avoid travelling vertically into the soil which aids stability. Woven geotextiles provide a strong separation between layers due to the interlocking nature of the polypropylene tapes and are ideal for heavy duty projects.
Key functions
Separation
Prevents intermixing of dissimilar soil layer
Reinforcement
Resists stresses or reduces deformations
Erosion Control
Creates a barrier that absorbs energy to reduce ground erosion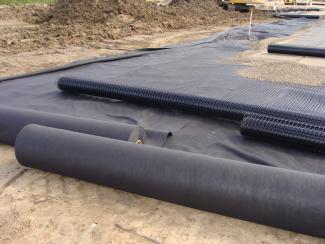 Applications for FasTrack
FasTrack is a versatile premium woven geotextile, providing a cost-effective solution for reinforcement, separation, filtration and drainage applications.
Compounds and haul roads
Achieve an economical design with rapid delivery and reduced costs on your compound or haul road.
Compounds and haul roads
Paved roads
Whether a rigid or flexible pavement, FasTrack can aid in the construction of paved roads.
Roads
Hardstanding
FasTrack is the ideal solution to provide separation and reinforcement to hardstandings for parking vehicles or storing materials
Car parks
FasTrack allows rainwater to be transported to appropriate drainage systems rather than vertically into the soil, which could be detrimental to ground conditions beneath the car park.
Products
| Stock code | Product name | Description | Datasheet | My Wrekin |
| --- | --- | --- | --- | --- |
| GTSG/FASTRACK/609 | FasTrack 609 | Polypropylene Woven Geotextile, 1500N, 75g/m² - 4.5m x 100m roll (other roll sizes available) | | |
| GTSG/FASTRACK/609/O | FasTrack 609 Orange | Polypropylene Woven Geotextile Orange, 1500N, 75g/m² - 4.5m x 100m roll | | |
| GTSG/FASTRACK/1800 | FasTrack 1800 | Polypropylene Woven Geotextile, 1900N, 85g/m² - 4.5m x 100m roll | | |
| GTSG/FASTRACK/2800 | FasTrack 2800 | Polypropylene Woven Geotextile, 2850N, 125g/m² - 5.25m x 100m roll | | |
| GTSG/FASTRACK/1818B | FasTrack 18/18 B | Polypropylene Woven Geotextile, 2000N, 91g/m² - 5.25m x 100m roll | | |
| GTSG/FASTRACK/1818DSF | FasTrack 18/18 DS F | Polypropylene Woven Geotextile, 1600N, 79g/m² - 5.25m x 100m roll | | |
| GTSG/FASTRACK/2929 | FasTrack 29/29 | Polypropylene Woven Geotextile, 4100N, 173g/m² - 5.25m x 100m roll | | |
| GTSG/FASTRACK/3535 | FasTrack 35/35 | Polypropylene Woven Geotextile, 3600N, 140g/m² - 5.25m x 100m roll | | |
| GTSG/FASTRACK/4040 | FasTrack 40/40 | Polypropylene Woven Geotextile, 5000N, 185g/m² - 5.25m x 100m roll | | |
| GTSG/FASTRACK/6060 | FasTrack 60/60 | Polypropylene Woven Geotextile, 5600N, 258g/m² - 5.25m x 100m roll | | |