Our products
TurfMesh™
Turf Mesh is a versatile grass support system, which can be installed on already established lawns and park areas. Turf Mesh provides great versatility as a temporary system or left in position to become a permanent and integral reinforcement mesh.
Turf Mesh is laid directly onto the grass surface and secured in place by supplied steel U-pins. Grass roots quickly grow through and establish within the mesh apertures, areas of installation return to a natural appearance as the Turf Mesh becomes part of the grass root matrix.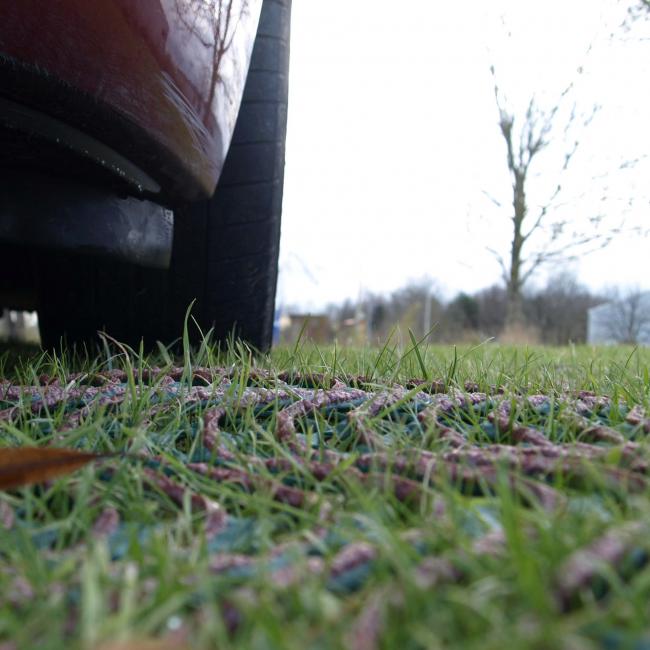 Turf Mesh has been specifically designed to facilitate vehicular traffic on ground with established grass/turf without effecting normal gardening practices e.g. mowing, fertilising, rolling.
Turf Mesh is manufactured from a heavy duty thermoplastic which incorporates a blowing agent to help texture and create a less slippery surface. Green and brown in colour Turf Mesh is UV stabilised, rot resistant and chemically inert, providing a long term reinforcement solution. Turf Mesh is available in three grades to suit different loading capacities from pedestrian to emergency vehicle access.
Applications
Overflow Car Parks
Pedestrian grassed areas
Emergency Access Routes
Golf Course Buggy Access
Caravan Parks
Equestrian Surface Reinforcement
Footpaths & Cycle Tracks
Light Aircraft taxi-ways
Turf Mesh specification
---
Characteristics
Test
Units
Turfmesh 1000
Turfmesh 1400
Turfmesh 1800
Structure
 
 
Rhomboidal
Polymer
 
 
Polyethylene and EVA (foam)
Colour
 
 
Green and brown
Tensile strength - MD*
EN ISO 10319
kN/m
6.5
9.5
11.5
Yield point elongation*
EN ISO 12236
%
25
25
25
Residual thickness @ 500kPa
ASTM D1621
%
50
50
50
Physical properties
Roll width x length
 
m
2 x 20
2 x 20
2 x 20
Weight by area
 
g/m2
1000
1400
1800
Roll weight
 
kg
40
56
72
Roll diameter
 
m
0.51
0.52
0.59
Roll volume
 
m3
0.55
0.54
0.70
Roll covering area
 
m2
40
40
40
* longitudinal pitch