Our products
TreeBunker
The TreeBunker root planning system is a modular void-forming container that provides unlimited expansion for unimpeded root growth, at the same time as supporting traffic loadings. It is ideal for new trees in areas such as pavements, car parks, plazas, green roofs and even green walls.
TreeBunker has a very high loadbearing capacity compared with similar void-forming structures. (Supported by independent testing and verification).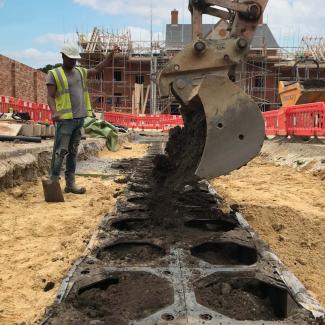 TreeBunker has been developed from the experience gained by extensive trials, projects and discussions with landscape architects, clients, contractors and nurseries to provide the most cost effective, fit for purpose solution to the problems associated with growing large trees in urban environments.
In addition to the key functions, such as withstanding heavy traffic loads, whilst maintaining pavement integrity and providing an unimpeded root growth, TreeBunker also promotes stormwater management within the system, dealing with rainwater run off at source, the ideal SuDS solution.
Key elements taken into consideration for the development process were the need of simple design, easy installation, sustainability, integration of existing and new utilities, variable unit depth and free void space available for soil infill.
Benefits of using TreeBunker
Variable system height, between 400mm and 1400mm.
Designed to support heavy traffic loads whilst maintaining pavement integrity.
Provides unhindered root growth for large species of trees.
Quick and cost effective installation and easy to fill with any soil.
Large spacing between legs of structure ensures roots will grow without being restrained.
Made from 100% recyclable, long lasting and inert plastics.
Modular system for design flexibility.
TreeBunker can be installed in curves down to 5m radius without additional products.
Utility friendly, designed for easy utility maintenance and repair.
Combines storm water management and root growth, up to 25% of the volume is available for water infiltration.
Up to 95% volume available for soil infill.
Withstands vertical and lateral loadings.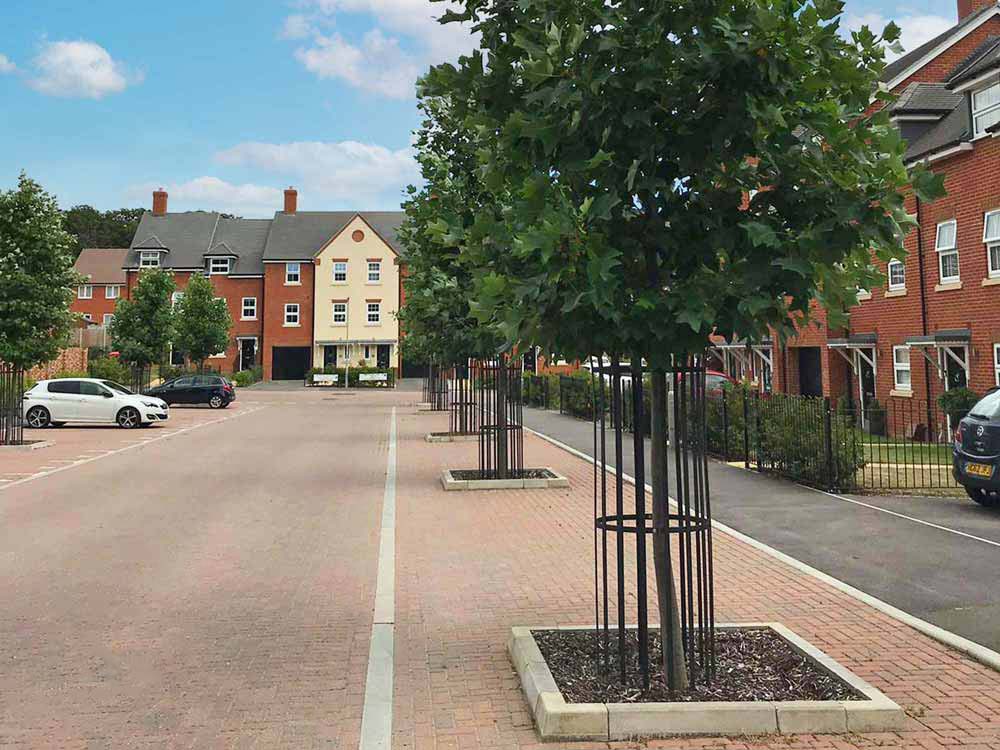 How TreeBunker TRD system works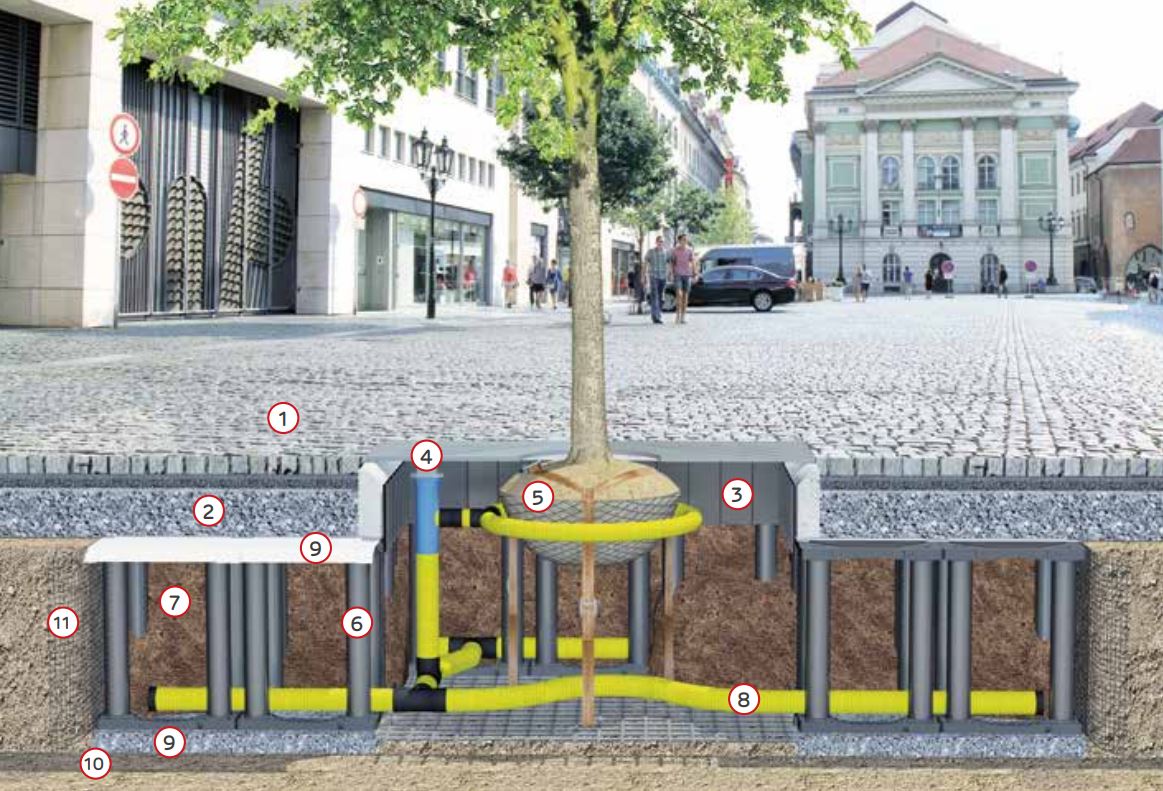 Surface to architects details
Upper sub base material (Usually MoT Type 1)
Root direction plate
Irrigation and Aeration cap
Anchored Tree ball
TreeBunker system Loamy sand box infill material
Irrigation and Aeration system
Root-tex 10 geotextile separation
Sub-base 100mm depth
Vertical geogrid to spread horizontal pressure
TreeBunker components
| Wrekin stock code | Item description | Dimensions |
| --- | --- | --- |
| GSD/BUNKERFRAME | Moulded plastic top and base panel | 600mm x 600mm |
| GSD/BUNKERDECK | Octagonal plastic deck grid insert | 540mm x 540mm |
| GSD/BUNKERPOSTS | 100mm Ø posts to required length (x4 per unit) | Length x 100mm |
| GSD/BUNKERTRC30 | Trc 30 reinforced laser bonded geotextile | 5m x 100m Roll |
| GTROOTTEX10 | Root-tex 10 Non-woven geotextile | Various roll sizes available |