Our Products
ProtectaWeb™
ProtectaWeb is a proven no-dig method of enabling the creation of access ways or parking areas in close proximity to nearby trees. The unique composition and strength of ProtectaWeb™ ensures this can be done without compacting the soil, which can cause irreparable harm to the tree's life support system.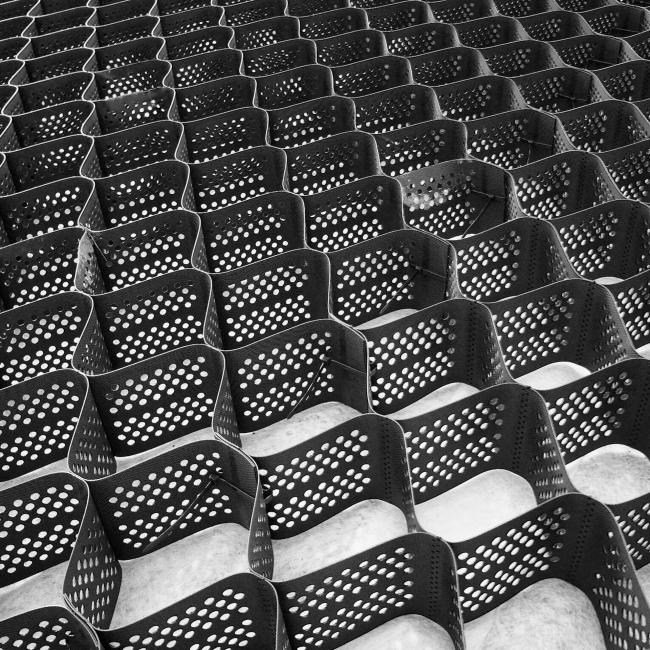 Prevent damage to tree roots
ProtectaWeb is a matrix that contains and confines granular infill. This provides a stable, uncompacted, composite matrix with an enhanced angle of internal friction that significantly reduces the imposed loads on the soil and tree roots beneath.
ProtectaWeb's perforated cell walls give lateral drainage, minimising hydrostatic build up which ensures the maximum supply of water to the tree roots, even when installed on a gradient.
On development sites soil compaction is the biggest threat to existing trees. Soil compaction forces air, minerals and water particles out of the soil leaving the tree root starved of the vital components needed for health.
Compaction is caused primarily from the construction process or creating new paths, car parks or roadways above the root protection area of existing trees. This is usually compounded by site traffic using the site prior to any tree protection measures being in place. There are other factors which can cause harm to trees on development sites. These include:
Storing building materials above the root protection area
Creating impermeable surfaces above tree roots
Raising ground levels above the root protection area
Poor design of tree protection measures
Root severance and disturbance during tree works
Building too close to tree trunks.
ProtectaWeb provides the solution
Wrekin's tree root protection system, ProtectaWeb™, is ideal for building roads, car parks, lorry parks, and pathways over the root protection area of existing tree roots. It can be designed to accommodate all types of vehicle loadings and soils without any digging required. The system is simply placed on the existing ground, filled and finished with a porous surface. The cells are filled with a clean angular stone which allows drainage and aeration through the cells. Two key components of the ProtectaWeb™ system are the special grading of the stone and the selection of the geotextile separator, placed below the ProtectaWeb™
How protectaweb tree root protection system works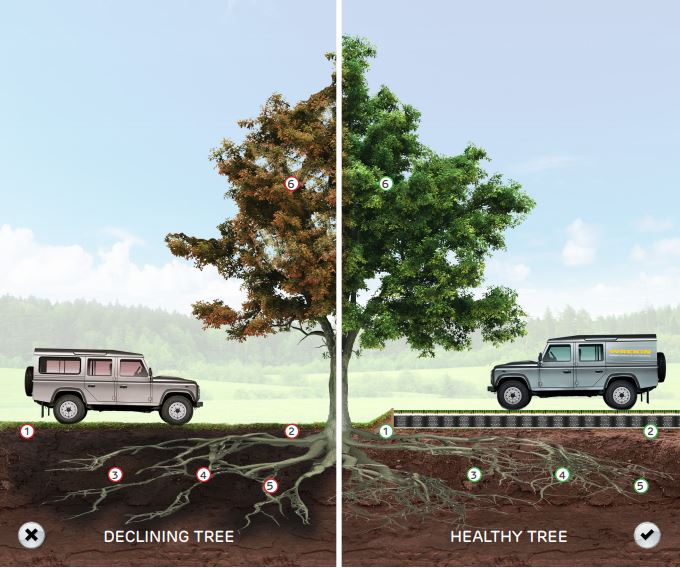 Lack of tree root protection can lead to
Rutting and compaction of soil
Physical root damage from wheels
Restricted oxygen and water channels to root system
Roots exposed to contamination from vehicle leaks of oil, petrol and diesel
Root dieback
Overall decline of tree
ProtectaWeb Tree Root Protection system provides
Provides even distribution of traffic weight
Guards against root damage from digging out
Ensures unrestricted passageways for oxygen and water to roots
Protects roots from contamination by nonwoven geotextile
Reduced compaction of sub-soils
Keeps tree healthy
Benefits of ProtectaWeb
Provides a suitable, stable, running surface for the required road or track
A no-dig solution with no mechanical damage to the existing tree roots
Significant reduction in the loads transferred from above to the tree roots
Prevents harmful compaction of the soils in the root protection area
Provides a porous and uncompacted structure that enables the tree's essential supply of water and oxygen to be maintained
Eliminates the risk of a potential fine for causing damage or death to a tree subject to a Tree Protection Order
We can provide a variety of design suggestions for your scheme depending on the in-situ ground conditions and associated loading requirements
Applications for ProtectaWeb
Car park areas
Access roads
Driveways
Footpaths
Fire access route
Functions
Reinforcement
Resists stresses or reduces deformations
Protection
Stress reduction layer to prevent or reduce damage
Filtration
Allows passage of fluids whilst retaining soil particles
Drainage
Collects and transports fluids within its thickness
Erosion control
Prevents wind or water surface erosion
Product specification
Cell depth
Test method
50mm
75mm
100mm
150mm
200mm
Suitable for
 
Light foot trafficking
Cycleways, footpaths, bridleways, small vehicle access
Car parks, domestic driveways, vehicle hard standing
Fire tenders, dust carts, vehicles up to 30 tonnes
Site access for construction vehicles, cranes and working platforms
Sheet length (m)
 
3.68
Bonded ranges (mm)
 
356±2.5
Expanded cell size (WxL) (mm)
 
260x224
No of cells / section
 
330
Expanded section size (m)
 
2.71 x 7.38
 
 
 
 
Expanded section area (m2)
 
20
 
 
 
 
Material
 
High density polyethylene
Standard colour
 
Black
Density (g/cm3)
ISO 1183
≥0.94
Carbon black content (%)
BS 2782
≥1.5
Tensille strength3 MD (kN/m)
ISO 10319
≥20
Tensile strength of perforated strip MD (kN/m)
ISO 10319
>10
Elongation at maximum load 3,4 (%)
ISO 10319
15
Seam peel strength3 (N / 100mm depth cell)
ISO 13426 method B
≥1420
Design proposals and guarantee
We can provide full design proposals for all ProtectaWeb components. The chart below can be used as a guide for initial project implementation. However, we always suggest the full requirements of your design be verified by our technical support team.
In addition, we will guarantee ProtectaWeb Tree Root Protection System for 25 years, providing the ProtectaWeb strictly adheres to our installation recommendations and all system components have been used.
| Depth of cell required | Gross vehicle weight | Application |
| --- | --- | --- |
| 200mm | <65,000 Kg | HGV, crane and piling rigs |
| 200mm | <50,000 Kg | Heavy construction traffic |
| 150-200mm | <30,000 Kg | Standard construction traffic and refuse vehicles |
| 150mm | <16,000 Kg | Emergency access and tractors |
| 100-150mm | <9,000 Kg | Delivery vans |
| 100-150mm | <6,000 Kg | Car parks for cars and light vans |
| 100mm | <3,000 Kg | Domestic traffic |
| 75mm | <1,000 Kg | Pedestrians and cycleways |
Note: This is general guidance for the depth of ProtectaWeb according to Gross Vehicle Weight for a firm and stable sub-grade (CBR.3%). If the ground conditions are poor and/or unstable please contact our ProtectaWeb team for a site-specific design on 01543 440432 or via email at sales@wrekinproducts.com.