First ever commemorative LGBTQ+ manhole cover takes pride of place
Wrekin Products has created and installed the first ever commemorative access cover, commonly referred to as a manhole cover, dedicated to the LGBTQ+ community. The revolutionary cover, which was created as part of a partnership between Wrekin and Thames Water, was designed to symbolise and immortalise the organisation's loyalty and commitment to increasing diversity on the streets of the UK.
To bring the cover to fruition, we completed a unique manufacturing process to provide the water services company with four brand-new Unite D400 covers, all sporting the bespoke design. 
A unique milling and colouring process was followed so that icons, logos and the iconic rainbow colours – including black and brown to represent LGBTQ+ people from the BAME community – can be showcased on the exterior of each ductile iron cover, ensuring pedestrians will not fail to miss the one-of-a-kind design. 
Each design was carefully machined to achieve fine details around the symbols. We used a precision CNC machine with a 1mm carbide cutter spinning at 26,000rpm and removing five microns of material at any one time. The rainbow colours were then cast using a pigmented epoxy resin, and the symbols and rain drops were polished by hand with the use of an air sander.
The location of the first cover - which was installed on Napier Road junction with Kings Meadow Road in Reading on 02 September in the days leading up to Love Unites Parade & Festival, Reading's annual Pride celebration - was particularly significant, as the pavement that runs alongside the road is part of the route that festival goers walked at this year's event on 4 September.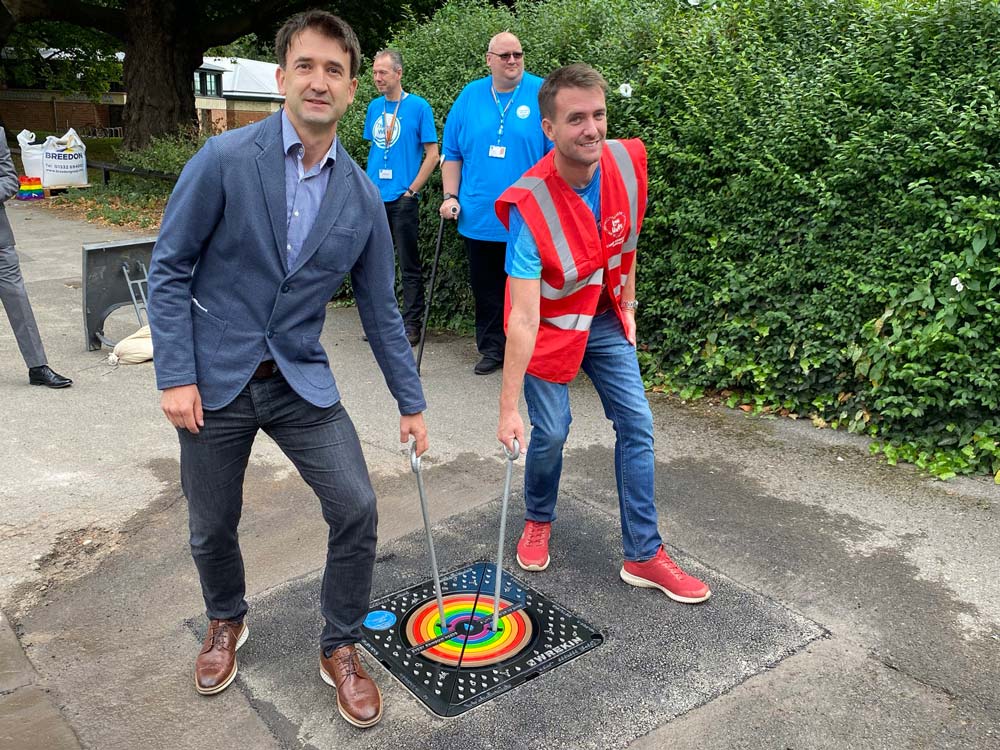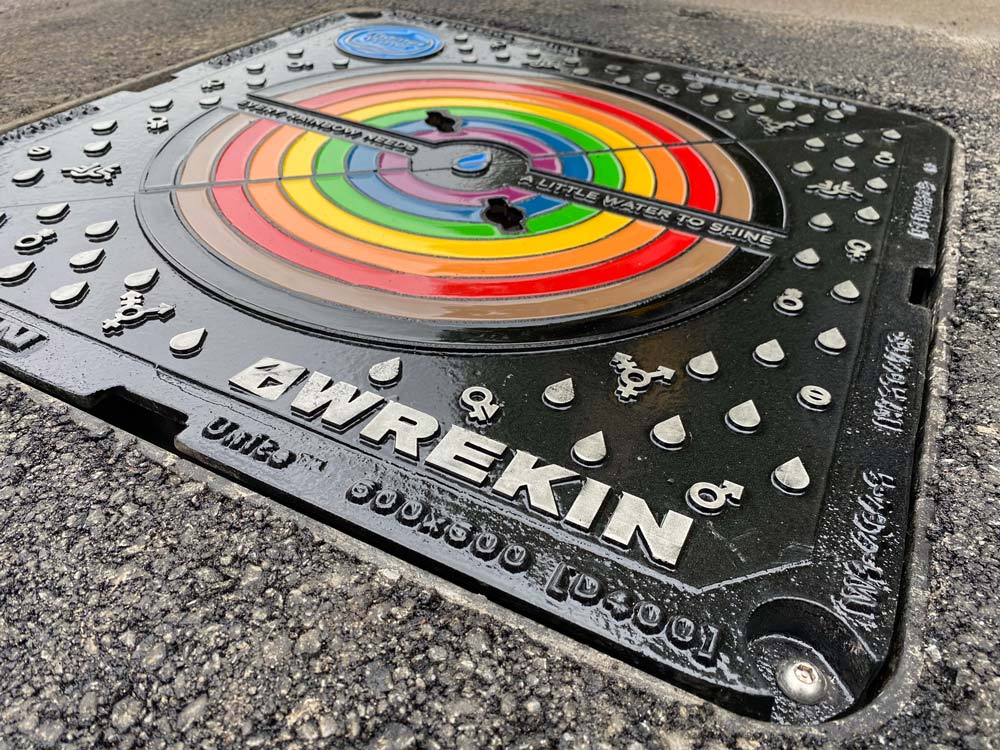 Our commercial director, Simon Turner, said: "We're thrilled with the finished product and hope that the message 'Every rainbow needs a little water to shine' will be able to empower, inspire or even simply put a smile on the face of those who pass them - as each cover is being installed in an area that's synonymous with the LGBTQ+ community. 
"There's so much intricate detail and creativity that's gone into this industrial design and we look forward to people being able to enjoy the covers for generations to come."
This is the third bespoke design we've designed alongside Thames Water. The most recent being the one-of-a-kind Abbey Road themed design that celebrated the albums 50th anniversary in 2019, which sits proudly next to the famous zebra crossing outside the studios. Meanwhile, our first ever manhole cover design was slightly less glamourous and took place in 2018 on Whitechapel Road. The cover marked the spot of the memorable 130-tonne 'monster fatberg', made up of congealed wet wipes and cooking fat, discovered to be blocking 250 metres of sewers below. 
However, our partnership with Thames Water actually dates back as far as 2004, during which time we have supplied in excess of 100,000 units for its vast network of over 15 million people. During this 17-year period we have lived up to our aim to provide a manhole cover that's 'fit for purpose'. 
The other three covers that were ordered by Thames Water, one of which that was funded by drainage and wastewater utility specialist Lanes Group, have since been installed in Swindon and central London, bringing the project to completion.