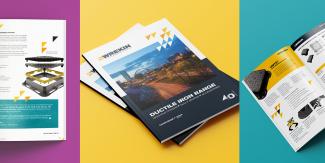 Catalogue
Ductile iron range 2022
Introducing our brand new Ductile Iron Range 2022 catalogue containing all Wrekin ductile iron ranges, presented in order of load class including key technical information. Download or request your copy today!
Datasheets
All of our datasheets can be downloaded directly from the product page. We have a handy guide to help you find them.

The hard hat for your ironwork
Armadillo
Armadillo prevents construction site traffic, including tracked vehicles, from damaging your ironwork, ensuring manhole covers and gully grates can start their service life in 'as new' condition.
A complete range of protector shells, Armadillo is designed to be easily placed over manhole covers and gully grates, providing enhanced protection during the construction phase while preventing the need for premature repairs and replacements.
Learn how you can save on your next project.