Outstanding service and products
We are one of the UK's leading experts in the design, manufacture and supply of specialist civil engineering products, putting solutions at the heart of our business – preventing those everyday headaches clients can experience.
We know that time and money is at a premium, which is why we're constantly pushing ourselves to create new, innovative and long-lasting solutions to the everyday problems that come up – providing security and peace of mind.

Success stories
Ground stabilisation for Code Fitness Gym
We successfully implemented a ground stabilisation solution for Caliber Construction to complete the development of Code Fitness Gym in Nottinghamshire.
After encountering ground problems during the construction of a new gym on a countryside business park, Caliber Construction knew who to contact. However, contacting us after works had begun meant the need to provide a time effective solution was critical.
The positive impact of geosynthetics
Geosynthetics play an integral role in major building and civil engineering projects - and we have a wealth of technical expertise in this essential sector.
Alongside our technical experience, built up over 40 years, we have a full range of solutions for ground stabilisation, reinforcement, erosion control, drainage, environmental protection and more.
Our products, such as our non-woven geotextiles, are manufactured and tested in accordance with the latest UK, European and international standards and are UKCA, UKNI and CE marked.
They contribute significantly to the performance of civil engineering projects. We are proud of the longevity of our products, which offer significant reductions in the amount of materials required.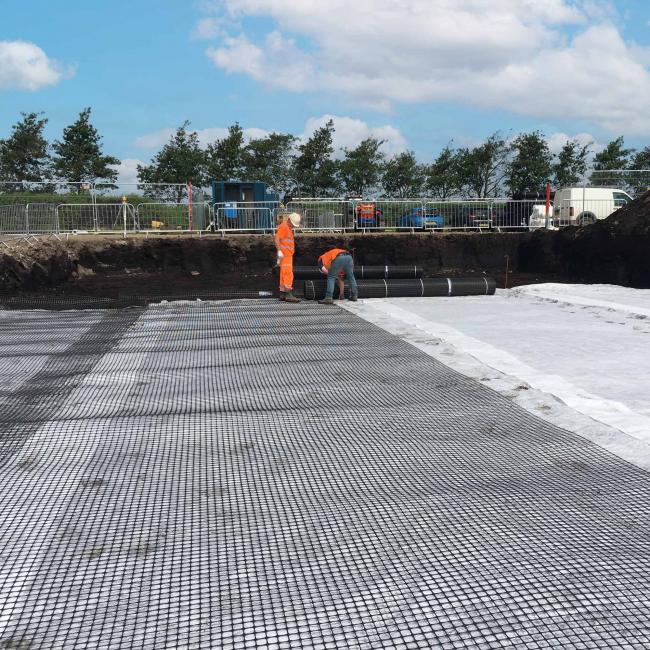 Essential geogrid solutions
Our geogrid solutions can reduce the thickness of a haul road, compound or working platform, typically by 50%, resulting in substantially reduced construction costs and time.
They improve site health and safety, accelerate construction timescales and reduce the project's overall environmental impact.
Early engagement means the geogrids can be manufactured to the exact width the contractor needs, suiting the site-specific requirements and creating an even more cost-effective grid.
At Wrekin, we offer two grades of geogrids. For permanent, adoptable roads, we tend to use our premium E'GRID range with a 100 year design life. However, we also offer SX Grid , which has the same impact in terms of thickness reduction but it's properties lend itself perfectly to temporary solutions such as compounds and haul roads.
Haul road expertise
We have a deep understanding of creating initial site compounds, working platforms and haul roads, which we know can have a huge impact on resources for contractors.
Many major infrastructure projects need well-constructed haul roads so that site traffic can operate safely and effectively and which need hard standing areas for construction equipment, vehicles and site offices.
Haul roads are a practical and necessary cost, yet they are often overlooked and not considered as an area for future improvement. That's where Wrekin, with our expertise in applying solutions that benefit contractors, can help. We can identify what is needed and provide solutions that are as cost and time-effective as possible.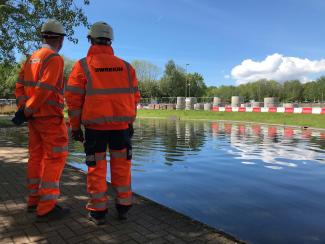 A supportive team
We have developed a strong reputation in the civil engineering sector thanks to our skilled teams wealth of experience. We offer the best technical expertise with exceptional customer support. Our team works with asset owners, developers, main contractors, ground workers and local authorities throughout a construction scheme's lifecycle, including:
Initial project support
Listening and working with customers to fully understand their requirements. We provide pre-tender and tender support to lend a competitive edge.
Product specification
Our technical experts and value engineering service means that you have access to the best advice and support.
Design schemes
Our talented team provides full design services, with the added bonus of supporting documentation and drawings.
Advice and site meetings
We understand the value of regular site meetings, helping to improve communication, giving installation advice and ensuring each project is completed successfully, right down to the project review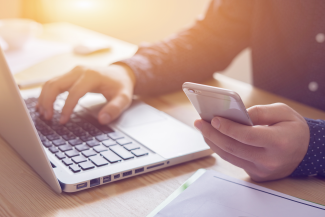 Contact us
Whether you are looking for live project support, or are in the initial stages of specification, we are always on hand and happy to help.