Interview with
Simon Turner
Our family-run firm has seen many changes over the years in our quest to be a leading designer, manufacturer, and supplier of specialist products for the civil engineering industry.
Our commercial director Simon Turner relishes the challenge of staying one step ahead in an industry that is crucial to the UK's infrastructure.
Here, he explains the company's growth – and his hopes for the companies future.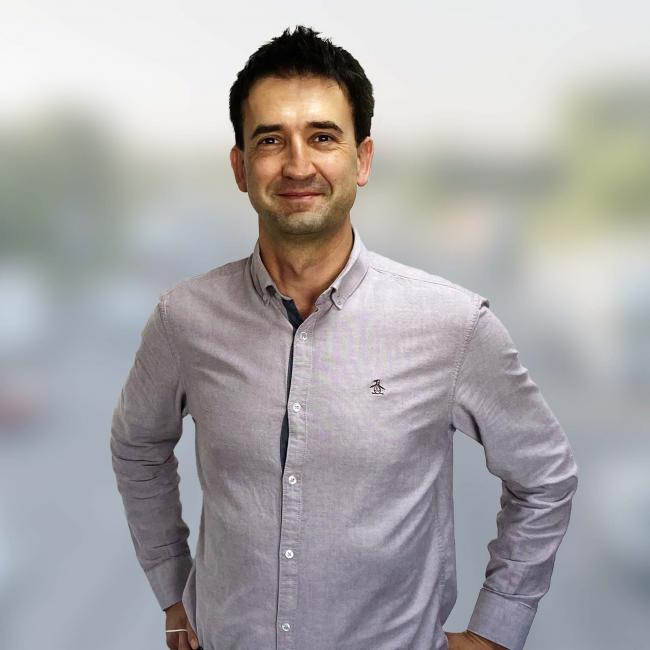 Wrekin origins
What sets Wrekin Products apart?
We genuinely feel we are market leaders in terms of volume and turnover, but also in our innovation and knowledge of the problems our customers have and how to solve them. Our customers like working with us because we always know about the next big thing.
How did your involvement in civil engineering products begin?
It started with my father, Stan, who bought into a cast iron company in the 1990s, which sold pipes to the water industry but was looking to expand into the manhole cover market.
This led to the purchase of a firm called Wrekin Welding and Fabric Engineering Ltd, which made steel manhole covers, in 1996. The company was named after the famous Wrekin hill, in Shropshire.
Then, in around 2000, my dad sold his business to an American company and stayed on board. I'd joined from university and then we basically did a management buy-out of the small Wrekin part of the company.
Exciting times for the family, then. Had you always wanted to be involved?
That wasn't my initial plan! I'd just finished an environmental degree at Newcastle University, followed by an MBA, and was looking at interviews elsewhere. I wasn't thinking of coming here but I started with a summer job in sales – and then we ended up buying out the business and that was it.
Did the Wrekin business really take off after the management buy-out?
Our turnover was £2.5m in 2001 and we decided to steadily focus on iron manhole covers and steel fabrications, growing the business to around £10m in 2012/13.
Then, after a restructure, the team oversaw some rapid growth. COVID-19 aside, by the end of the 2020, we had reached a turnover of around £43m.
What made the difference to the company's growth?
We changed the focus of how we took our products to market. We changed from simply being a trading company to seeing ourselves very much as a manufacturer. We spent a lot of time and resources on designing manhole covers that can solve the failure mechanisms you find in highways projects.
A lot of the investment in recent years has been heavily focused on iron manhole covers. But we also have very strong capabilities around steel covers and geosynthetics. They are our three main specialisms.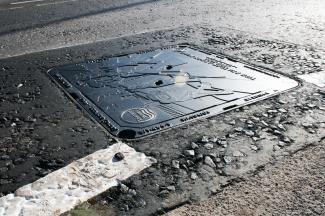 Ductile iron manhole covers
Looking at these three areas in turn, why iron manhole covers?
They might seem boring to some, but they are an exciting science. There are millions and millions of manhole covers out there and are a necessity product – a core part of a development by any contractor, housebuilder, water and telecoms firm, and local authority.
But there are challenges in the design quality and operation of ironworks in the roadways that have never been properly understood.
Their design hasn't really changed a vast amount over the years. There was a transition in the 1970s from heavy cast iron to ductile iron, which doesn't use as much iron and is therefore cheaper, but it flexes and the wearing processes were never fully understood.
What happens to them?
The design life of a road is about 20 to 25 years but quite often, engineered manhole covers didn't last beyond two or three years. A lot of time and effort can go into designing and laying a road but the manhole cover in the middle might not have had a lot of thought from an engineering perspective. So these very expensive roads end up looking like a patchwork quilt because the ironwork is failing.
How did Wrekin tackle the issue?
I think we were the first company to approach it and try to understand the flow of those forces from the traffic to the substructures and to design a product and a system to counter that and give a maximum life.
It became a passion of mine to solve these problems and the company worked very hard to introduce compelling products. Our Unite range of access covers was probably our first engineered solution – it's 20 years old but it is still in the ground performing well and outperforming rival products.
Who are your customers?
Around 95 per cent of our business is sold through builders' merchants – and their biggest customer is the housebuilder. Our brand is seen as being reliable and trusted. 
We also work with a number of water companies. We have an established ten-year partnership with Thames Water, delivering 1.2 million manholes across 100,000 kilometres of sewers over the past decade.
What has it meant to your business?
We genuinely are market leaders in terms of volume and turnover but also in innovation and knowledge of our customers' problems and how to solve them. We have a skilled team of engineers and we design the products, own the intellectual property and all the tooling, and have more than 100 patents.
What has been your proudest moment in the world of access covers?
It was a project to mark the 50th anniversary of The Beatles' album Abbey Road, which I love. We knew we had an asset in front of the zebra crossing in the album's iconic image and wondered if there was anything we could do. We worked with Thames Water to recreate the image on one of our covers (the Unite Evolution D400) and had it installed – it was fantastic and will be there forever.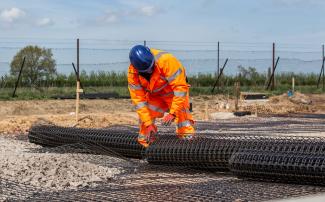 Steel access covers and geosynthetics
Tell us about the success of your fabricated and bespoke steel access solution division…
This is where we started, so we have more than 30 years of experience in the design, manufacture and supply of these covers and we are one of the UK's leading suppliers.
We have exceptional design capabilities and knowledge, helping us to provide a comprehensive, bespoke service. We're very skilled at mid-specialist products such as streetscapes and town centre redevelopments.
And what about the geosynthetics side of the business?
This is a crucial and growing area for us. Geosynthetics contribute significantly to the performance of roads and other civil engineering projects and we are experienced in providing solutions, particularly through separation and filtration geotextiles.
We are always conscious of the environmental impact – you can affect the carbon footprint in terms of a product's lifespan but using geosynthetics can also reduce the number of lorries going to site and the need for less hardcore and other materials.
Into the future
Tell us about your team…
We pride ourselves on the relationships our skilled team has with our customers, who know we can help them save money but also take the hassle out of what they're doing.
We are also incredibly proud of the accreditations we have achieved. We were one of the first companies to be kitemarked by the British Standards Institute and we are heavily involved in raising standards in the industry.
How is the future looking?
We have grown our business significantly in recent years through innovative features and designs and by having a high level of skills and experience. This past year in the pandemic has really tested everybody. We've worked hard to maintain our services and we had a very strong end to the last year.

And, finally, what are you most proud of working at Wrekin?
It's when we successfully deliver a groundwork solution that's gone operational and the team comes back buzzing and saying how well it has worked.
Also, I can go anywhere in this country, get out of the car and guarantee that within 20 metres I can see one of our products.
Friends even send me photos. One of them was visiting West Midlands Safari Park and was outside the lemur enclosure – and there was one of our covers!