Fully featured drainage
H₂Go™ kerb unit
H2GO is a BS EN124 D400 & BS7903 combined kerb and drainage unit intended for site fitment onto a Gully Chute Connector unit used in a Group 3 location.
The H2GO itself comprises of a main body with BS EN 1340 half batter profile, a stainless steel turn-buckle lock (operated by the use of a dedicated key), a reversible side-hinged lid and an adjustable road retaining bar.
The H2GO assembly allows inspection, cleaning and rodding access via its hinged top lid.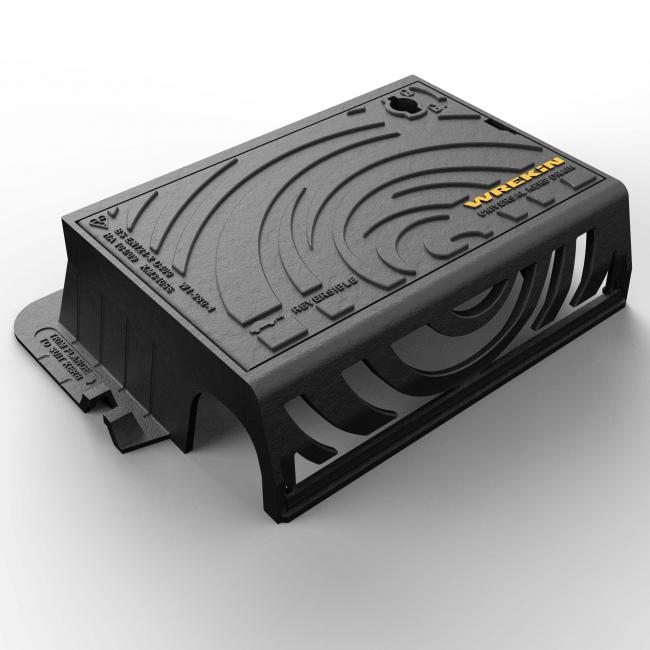 The H2GO's inspection cover is supplied captive hinged to prevent theft and its dedicated cover key is used to lock and unlock the stainless-steel locking bolt and open the cover. The same key also incorporates a BS 7903 heavy duty lifting key profile which can be mechanically engaged in one of the two balanced safety-lifting-points within the flange, for safe and secure placement by operators.
An integral road retaining bar provides site-adjustable formwork to prevent road material extruding into the gully cavity during surfacing and contemporary anti-debris bars inhibit unwanted waste entering the drain in use.
Fitment to gully chute connector – The unit's plan profile is designed to work with our standard Gully Chute Connector unit ensuring effective load support around its perimeter.
Integrally formed kerb cutting marks indicate common locations for on-site cutting-adjustment to accommodate abutment of the common UK kerb thicknesses. Side apertures are provided for use as drainage points when adjoining combined kerb and drainage units.
Captive hinges reduce theft risk whilst allowing easy lifting.

Mechanical lifting points are provided.
Products
Manhole covers - Square
Stock code
Range
Overall frame
(A x B)
Clear opening
(C x D)
Frame depth
(E)
Base opening
(F x G)
Datasheet
My Wrekin
DGK115/HB/KG
H2GO
645 mm x 445 mm
440 mm x 305 mm
150 mm
530 mm x 370 mm
Available options and accessories
Options
Enhanced Anti-slip Coating
Ventilation Holes
Accessories
Dedicated Locking/Lifting Key