Our products
Vault™ D400 manhole covers
Vault secure access covers exceed the requirements of LPCB level 3 version 8, the stainless steel lock provides rugged durability and reliability.
Designed and manufactured to meet the enhanced requirements of Highway England's CD 534 specification, our hinged Vault range of access covers exceeds BS EN 124:2015 D400 requirements and include unique safety features, including a sequential opening locking system and stops which fix the covers in a unique, simple to use, upright position for safe and simple operation.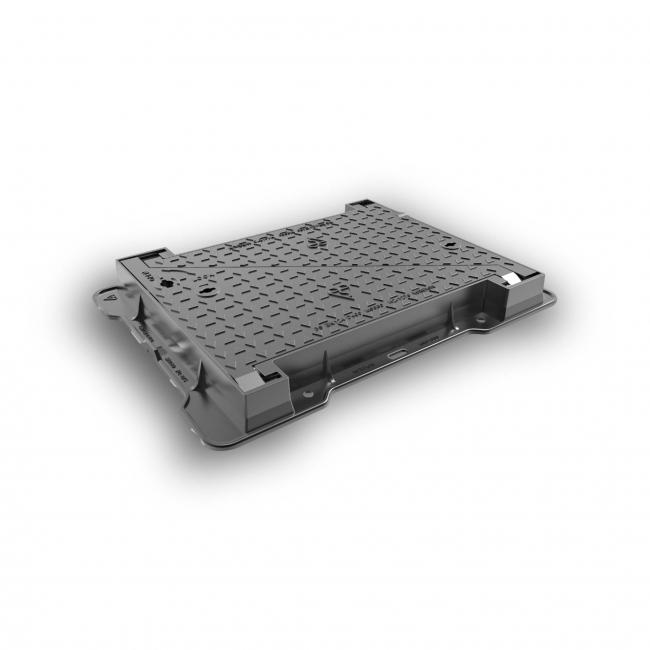 60+PSRV tested at top surface of chequer by UKAS accredited 3rd party.

Captive hinges reduce theft risk whilst allowing easy lifting.

Enlarged frame corners help to dissipate, load minimising bearing pressure.

Indexed corners ensure correct orientation first time, every time.

Safety keyway prevents accidental disengagement of the lifting key during the handling process.

Safety-stop hinges prevent covers falling once opened.

Sequential cover opening.
Products
Manhole covers - Square
Stock code
Range
Overall frame
(A x B)
Clear opening
(C x D)
Frame depth
(E)
Base opening
(F x G)
Datasheet
My Wrekin
DMH0D4/7567/K
Vault
950 mm x 875 mm
750 mm x 675 mm
100 mm
775 mm x 700 mm
DMH0D4/9045/K
Vault
1,090 mm x 650 mm
900 mm x 450 mm
100 mm
925 mm x 475 mm
DMH0D4/9060/K
Vault
1,090 mm x 800 mm
900 mm x 600 mm
100 mm
925 mm x 625 mm
DMH0D4/1361/K
Vault
1,490 mm x 810 mm
1,300 mm x 610 mm
100 mm
1,325 mm x 635 mm
DMH0D4/1383/K
Vault
1,490 mm x 1,050 mm
1,300 mm x 850 mm
100 mm
1,325 mm x 875 mm
Available options and accessories
Options
Enhanced anti-slip coating
Alternative badging
Flood and odour control plate