Aberdeen Western Peripheral Route (AWPR)
Transport Scotland /Aberdeen City and Aberdeenshire Councils
The Aberdeen Western Peripheral Route (AWPR) will provide a new strategic road link to improve travel in and around Aberdeen and the north east of Scotland. It will take through traffic out of the "Granite City".
Linking Stonehaven at its southern end with Tipperty at the north, the bypass is being built by the Connect Roads consortium, consisting of Balfour Beatty, Carillion and Galliford Try (Morrison Construction). Construction started in February 2015 with the 58km of new road due for completion in the spring of 2018.
Wrekin Products entered discussions about the ironwork required for the project at an early stage, visiting the site and setting out product options that would provide the solutions required.
Highway manhole covers, which conform to BS EN 124:2015 & HA104/09 requirements and also include patented safety provisions and design features to ensure safe and robust performance, were selected and the order placed was the biggest for a one off contract ever awarded to Wrekin. This contract also saw first use of the Highway range.
A close working relationship with the client has been maintained throughout, with frequent site visits, technical advice and liaison with other parties all provided by Wrekin Products to deliver successful, solution-based results.
Wrekin's Highway range, chosen for AWPR, is designed and engineered to be smart, super-simple to specify, reliable in operation and available in all popular configurations.
Highway products satisfy even the most rigorous specification standards, including HA104/09, BS7903 and EN124:2015 The Highway range of access covers includes patented safety provisions and design features to ensure safe and robust performance.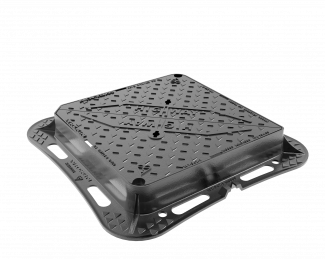 Options of flood protection plates, integral badging and cover locking across the range means all bases are covered.
Wrekin Products' Highway range was introduced to provide the construction industry with rigorous but easy to specify carriageway ironwork.
The covers have a patented frame design with enlarged frame corners and flanges that help to dissipate traffic load. Three-point suspension on the strong and highly durable ductile iron covers ensures non-rock stability.
Visits to various parts of the Aberdeen AWPR site in North East Scotland were made and measurements taken before Wrekin's Highway range was offered as a quality ironwork solution for the project.
Help was also provided with installation, with Wrekin's technical experts spending time on site to make sure highways standards were met by engineers from a range of backgrounds and with varying levels of experience.
Questions raised by mortar manufacturer Larsen were also addressed, thanks to Wrekin collaborating with them.
Wrekin helped the client identify solutions on an on-going basis. Our assistance on the iron side and bedding methods led us onto later engaging with the AWPR where we are assisted them with their weed suppression requirements. Wrekin offers a wide range of geosynthetic solutions to the construction and transport sectors, backed by an expert, dedicated team.
Visits to the site continued until this, Europe's largest ever road scheme at the time of its construction, opened to the thousands of vehicles who now use it on a daily basis.