Superior finish access covers
Calpro aluminium recessed covers
Calpro is a range of high quality, strong, resistant and recyclable aluminium recessed access covers. Available in 40, 60 and 80mm depths, they are suitable for outdoor and indoor use, in areas where a superior finish is required.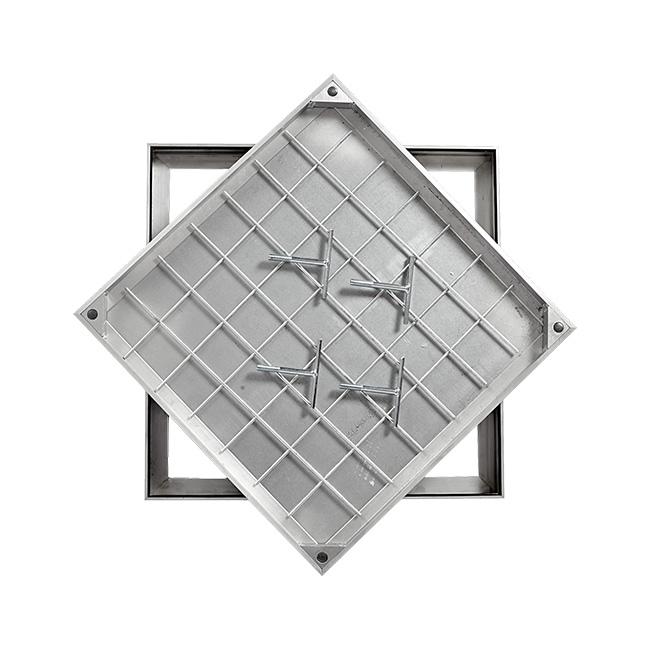 High quality, superior-finish covers
Our triple-seal aluminium accessed covers offer a superior finish for a wide range of flooring finishes. Available in frame depths of 40, 60 and 80mm and tray depths starting at 27mm.
Designed with a narrow frame width to offer a near seamless edge, providing an aesthetically pleasing finish. The tray depths provide compatibility with nearly all infill materials, including popular porcelain paving, which has seen a huge surge in demand.
The strong, corrosion-resisting aluminium finish blends seamlessly with its environment. Complete with a neoprene triple seal with double base seals and a surface grit seal, any risk of odours escaping the chamber is removed, while limiting ingress of any dirt or water from entering the chamber. Minimising any unseen issues from occurring below.
All covers come ready packed with threaded keys for easy lifting through screw holes. Contractors can rely on the range for both internal and outdoor applications, including patios, driveways, and conservatories in residential applications as well as education, health, leisure, and retail sectors.
Example applications:
Schools
Hospitals
Leisure facilities
Retail
Hotels
Kitchens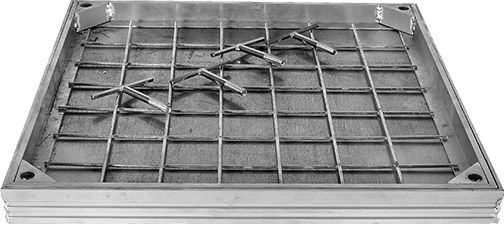 Safe and sound
Securely sealed
Featuring four locking screws and three neoprene seals, double base seals and a surface grit seal, Calpro offers increased security from any ingress or egress of the cover.
This increased security provides peace of mind that dirt, debris, water, or gasses will be unable to either enter or escape the chamber.
Thanks to the triple seal, Calpro is ideally suited for internal use, where the escape of any gasses or contamination from the chamber would be unwanted and potentially costly.

Match your environment
A near seamless finish
We know that it's important for an access cover to fit with its environment and provide an aesthetically pleasing finish. So that's why Calpro recessed aluminium access covers feature a visible edge that's only 13mm wide and with only 0.5mm gaps between the frame and cover.
Thanks to this, Calpro will fit nearly seamlessly into any environment.
In addition, the straight cover sides allow infill material can butt up to the cover edge and reduce time and effort when cutting materials to fit within the tray.
Features
Attractive design
Built with an aesthetically pleasing, corrosion resisting and durable material, offering increased longevity and confidence that it will fit in with any environment.
Triple sealed
Neoprene triple sealed from odour egress and contaminant ingress, providing peace of mind. The 4 locking screws and threaded lifting keys (supplied as standard) enhance overall security.
Nearly any finish
Perfectly suited to a wide range of popular flooring finishes, with straight cover sides. Providing a and a near seamless finish with a 13mm frame edge and only 0.5mm gaps.
Recyclable
Manufactured from fully recyclable aluminium, ensuring a sustainable solution.
Aluminium recessed covers
The recessed covers are available in various sizes across three frame depths; 40mm, 60mm and 80mm.
Areas of use for 40mm frame depth covers
Areas requiring high qualify floor finishes​
Hospitals​
Sports and leisure facilities ​
Hotels​
Commercial premises​
Conservatories​
Shops and shopping precincts​
Domestic and housing
Areas of use for 60mm and 80mm frame depth covers
Areas requiring high qualify floor finishes​
Hospitals​
Sports and leisure facilities ​
Hotels​
Commercial premises​
Conservatories​
Shops and shopping precincts​
Domestic and housing
Light commercial delivery areas​
Driveways and car parking areas​
Car showrooms​
Stations and airports