Our products
Highway D400 Gully Grates - 3 Flange
Our Highway Group 3 gully grates are designed and manufactured to meet the enhanced requirements of Highways England's Design Manual for Roads and bridges (DMRB) specification CD 534 (formerly HA104/09).
The Highway range of access covers and gully grates conforms to BS EN 124:2015 and also includes patented safety provisions and design features to ensure safe and robust performance.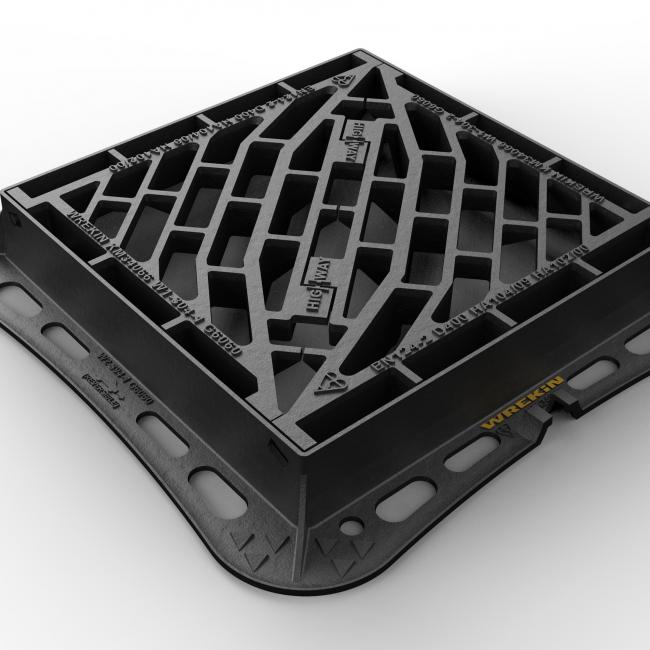 Captive hinges reduce theft risk whilst allowing easy lifting.

Enlarged frame corners help to dissipate, load minimising bearing pressure.

Mechanical lifting points are provided.

Reversible hinge allows the grating to hinge with the direction of the traffic flow, improving safety.
PRODUCTS
PEDESTRIAN FRIENDLY
Pedestrian friendly gully grates with a heel safe grating.
Gully grates
Stock code
Range
Overall frame
(A x B)
Clear opening
(C x D)
Frame depth
(E)
Base opening
(F x G)
Waterway area
Datasheet
My Wrekin
DGHT0D6/4242/KHP
Highway
615 mm x 545 mm
425 mm x 425 mm
150 mm
450 mm x 450 mm
910 cm²
DGHT0D4/4545/KHP
Highway
615 mm x 545 mm
425 mm x 425 mm
100 mm
450 mm x 450 mm
910 cm²
Kerb hinged
Gully grates
Stock code
Range
Overall frame
(A x B)
Clear opening
(C x D)
Frame depth
(E)
Base opening
(F x G)
Waterway area
Datasheet
My Wrekin
DGHT0D6/4545/KHK
Highway
625 mm x 535 mm
430 mm x 410 mm
150 mm
450 mm x 440 mm
1,250 cm²
Gully grates
Stock code
Range
Overall frame
(A x B)
Clear opening
(C x D)
Frame depth
(E)
Base opening
(F x G)
Waterway area
Datasheet
My Wrekin
DGHT0D4/5035/KH
Highway
675 mm x 445 mm
480 mm x 320 mm
100 mm
500 mm x 350 mm
950 cm²
DGHT0D6/5035/KH
Highway
675 mm x 445 mm
480 mm x 320 mm
150 mm
500 mm x 350 mm
950 cm²
DGHT0D4/4337/KH
Highway
565 mm x 545 mm
370 mm x 430 mm
100 mm
390 mm x 450 mm
1,000 cm²
DGHT0D6/4337/KH
Highway
565 mm x 545 mm
370 mm x 430 mm
150 mm
390 mm x 450 mm
1,000 cm²
DGHT0D4/4242/KH
Highway
615 mm x 545 mm
425 mm x 425 mm
100 mm
450 mm x 450 mm
1,250 cm²
DGHT0D6/4242/KH
Highway
615 mm x 545 mm
425 mm x 425 mm
150 mm
450 mm x 450 mm
1,250 cm²
DGHT0D4/6045/KH
Highway
775 mm x 545 mm
425 mm x 425 mm
100 mm
600 mm x 450 mm
1,750 cm²
DGHT0D6/6045/KH
Highway
775 mm x 545 mm
425 mm x 425 mm
150 mm
600 mm x 450 mm
1,750 cm²
DGHT0D4/6060/KH
Highway
775 mm x 695 mm
580 mm x 580 mm
100 mm
600 mm x 600 mm
2,150 cm²
DGHT0D6/6060/KH
Highway
775 mm x 695 mm
580 mm x 580 mm
150 mm
600 mm x 600 mm
2,150 cm²
DGHT0D4/1045/KH
Highway
1,175 mm x 545 mm
980 mm x 425 mm
100 mm
1,000 mm x 450 mm
2,750 cm²
DGHT0D6/1045/KH
Highway
1,175 mm x 545 mm
980 mm x 425 mm
150 mm
1,000 mm x 450 mm
2,750 cm²
Available options and accessories
Options
Screw locking
Enhanced anti-slip coating
Accessories