Our products
Highway D400 Gully Grates V
The V gully is ideal for use in carriage surface water drainage channels with a 1:5 shaped profile. As a safety-critical product, this design incorporates a spring lock, safety lifting keyway and captive anti-theft hinges. This product conforms to CD 534.
The Highway Group 4 V gully grates are designed and manufactured to conform to Highways England's Design Manual for Roads and bridges (DMRB) specification CD 534 which recently replaced HA104/09.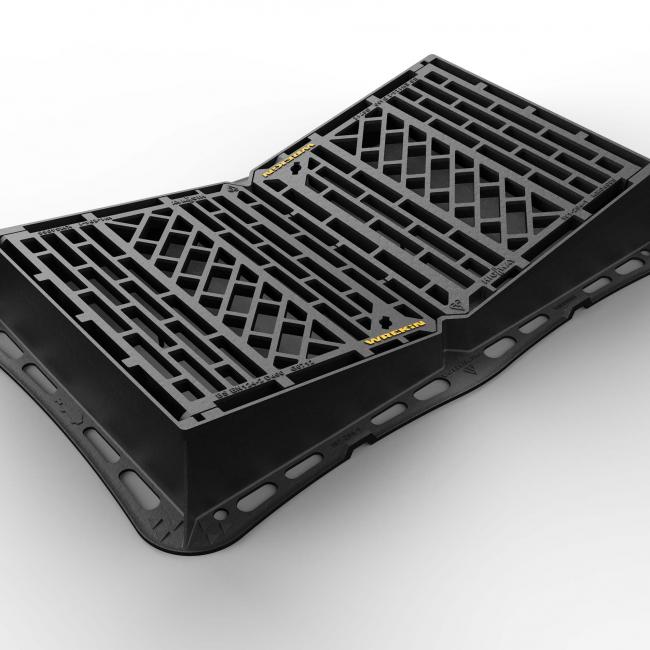 Enlarged frame corners help to dissipate, load minimising bearing pressure.

Mechanical lifting points are provided.
Products
Gully grates
Stock code
Range
Overall frame
(A x B)
Clear opening
(C x D)
Frame depth
(E)
Base opening
(F x G)
Waterway area
Datasheet
My Wrekin
DGHV0D6/6060/KH
Highway
800 mm x 800 mm
600 mm x 600 mm
150 mm
625 mm x 625 mm
1,950 cm²
DGHV0D6/6712/KH
Highway
880 mm x 1,405 mm
675 mm x 1,205 mm
150 mm
705 mm x 1,230 mm
4,550 cm²
DGHV0D6/9090/KH
Highway
1,100 mm x 1,100 mm
900 mm x 900 mm
150 mm
925 mm x 925 mm
5,100 cm²
DGHV0D8/1267/KH
Highway
1,405 mm x 880 mm
1,200 mm x 675 mm
200 mm
1,230 mm x 705 mm
4,550 cm²
Available options and accessories
Options
Screw locking
Enhanced Anti-slip coating
Accessories