Our products
Recessed - block infill, BT approved covers
Our range of BT approved block pavior covers and frames particularly suited to town centre developments, where replacement of existing service covers is required to facilitate infill of blocks or stone to match the surrounding area.
Individual lid sizes are reduced and incorporate a central lifting point and tapered cover side to provide a slide out feature for access by a single operative.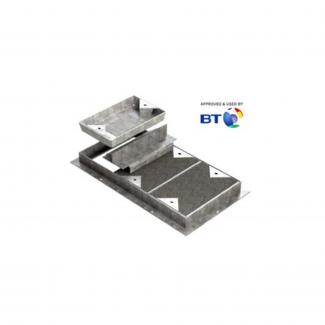 Designed to be lifted by a single person, helping to reduce labour costs.

Slide out cover designed for easy of removal.

Hot dipped galvanised for long life performance.

BT approved.
Products
| Wrekin product code | Range | Overall top of frame | Overall base of frame | Clear opening size (C x D) | Frame depth (E) | No. lids | Chamber ref | My Wrekin |
| --- | --- | --- | --- | --- | --- | --- | --- | --- |
| C231N/072025/BT | | 335 mm x 825 mm | | 725 mm x 255 mm | 86 mm | 1 | 2 | |
| C232N/061061/BT | | 680 mm x 695 mm | 770 mm x 770 mm | 610 mm x 610 mm | 86 mm | 2 | 5 | |
| C233N/091044/BT | | 320 mm x 980 mm | 605 mm x 1,075 mm | 915 mm x 445 mm | 86 mm | 3 | 4 | |
| C233N/096061/BT | | 683 mm x 1,040 mm | 770 mm x 1,120 mm | 960 mm x 610 mm | 86 mm | 3 | | |
| C234N/13061/BT | | 683 mm x 1,380 mm | 770 mm x 1,470 mm | 1,310 mm x 610 mm | 86 mm | 4 | 6 | |
| C235N/169071/BT | | 783 mm x 1,765 mm | 870 mm x 1,850 mm | 1,690 mm x 710 mm | 86 mm | 5 | 11 | |