Our range includes steel access covers, headwall products including trash screens, raked gratings, hand railing systems and sewers for adoption compliant safety grilles, to ladders, steps iron, safety chains and signs.
Many of our products are manufactured from rolled steel sections which are hot dip galvanised to BS EN ISO 1461 following fabrication (as an alternative to hot dip galvanising products can be supplied stainless steel). Minimum zinc coating thickness under the standard is 85µm, this can be increased to 100µm or 140µm for extended life expectancy. As an alternative to hot dip galvanising products can be supplied stainless steel.
Designed for you
Bespoke steel access covers
We have over 30 years experience in the design and manufacture of specialist fabricated access covers & frames. Our innovative approach to design & manufacture allow us to offer cover solutions for any chamber size, in any location.
We have a range of covers available which can all be tailored to your exacting requirements.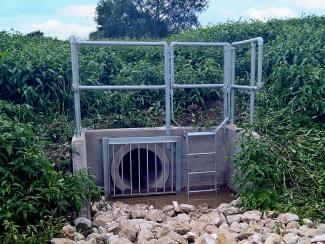 Bespoke steel solutions
Sewers for adoption grilles
Sewers for adoption guidelines call for any outfall with a pipe opening of 350mm or more to be fitted with a safety grille. The grille must be 270mm wider that the outside diameter of the pipe, have flat bars at 100mm spacing, be hinged and fitted with a padlock facility.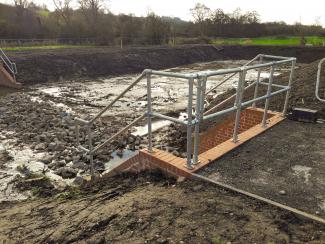 Bespoke steel solutions
Handrails
Wrekin handrails are manufactured from ø48.3mm medium gauge tube, hot dip galvanised to BS EN ISO 1461 and supplied with all the necessary fixing and fitting for site assembly. Self-closing gates can be provided to give safe access to the headwall for inspection / maintenance.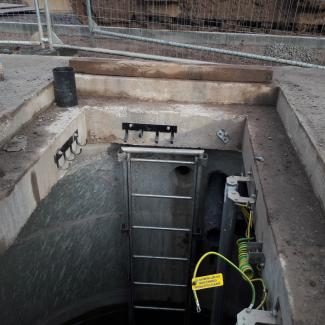 Bespoke steel solutions
Ladders and step irons
Fabricated ladders and plastic encapsulated step irons are available to provide access down to the headwall sill.
We have solutions available for use with new and existing brick, as well as concrete.
The steps are fully compliant with BS EN 13101 as well as being third-party certified by BSI.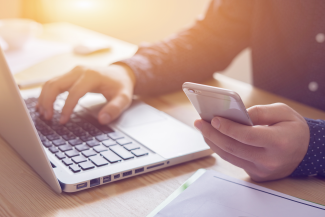 Contact us
Whether you are looking for live project support, or are in the initial stages of specification, we are always on hand and happy to help.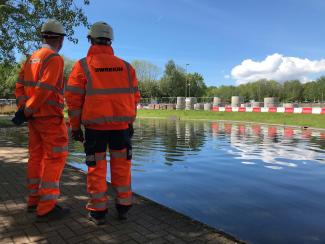 A supportive team
We have developed a strong reputation in the civil engineering sector thanks to our skilled teams wealth of experience. We offer the best technical expertise with exceptional customer support. Our team works with asset owners, developers, main contractors, ground workers and local authorities throughout a construction scheme's lifecycle, including:
Initial project support
Listening and working with customers to fully understand their requirements. We provide pre-tender and tender support to lend a competitive edge.
Product specification
Our technical experts and value engineering service means that you have access to the best advice and support.
Design schemes
Our talented team provides full design services, with the added bonus of supporting documentation and drawings.
Advice and site meetings
We understand the value of regular site meetings, helping to improve communication, giving installation advice and ensuring each project is completed successfully, right down to the project review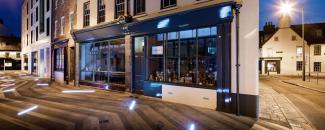 Success stories
Bespoke access covers for the River of Light
Specialist steel access covers required as part of the artistic transformation of a city centre street in St Helier, Jersey have been designed and manufactured by civil engineering specialist Wrekin Products.
The area is an important entry point to the main shopping area of St. Helier and includes the public open space at Charing Cross. One of the highlights of the regeneration project is the Pitt Street art installation, 'The River of Light', funded by the Channel Islands Co-operative Society.