Our products
Force™ D400 manhole covers
Wrekin's range of Force covers deliver ultimate durability and several unique features including a patented anti-debris ClearBore Hinge and easy lift provision. The design is based on principles from Wrekin's premium Unite range of ironwork which has an unrivalled pedigree of 20 years service with no reported failures.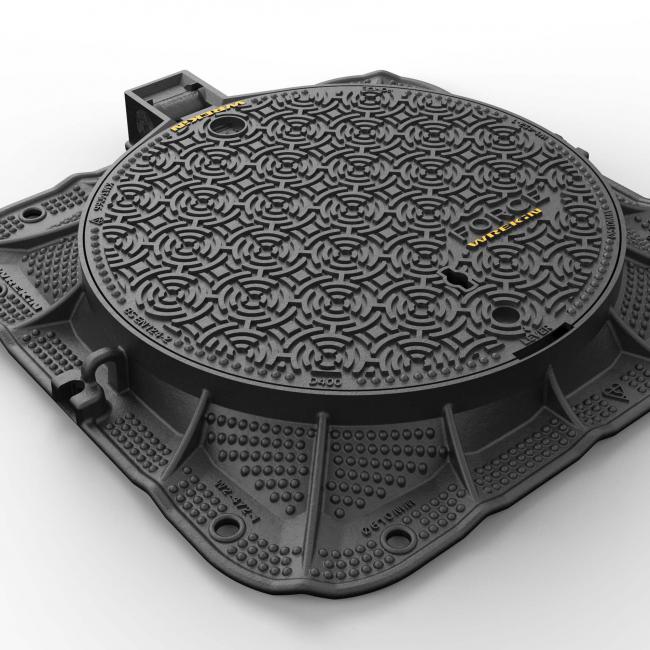 Designed to be lifted by a single person, helping to reduce labour costs.

Mechanical lifting points are provided.

Spring bar low security locking feature.

Anti-flex covers prevent the causes of cover seating wear, eliminating excessive noise and catastrophic failure.

Concealed hinges prevent debris entering the hinge and limiting its movement.

Safety keyway prevents accidental disengagement of the lifting key during the handling process.
Products
Manhole covers - Square to round
Stock code
Range
Overall frame
(A x B)
Clear opening
(C)
Frame depth
(E)
Base opening
(F x G)
Datasheet
My Wrekin
DMS1D4/60D/KUSF
Force
850 mm x 850 mm
Ø 610 mm
100 mm
690 mm x 690 mm
Manhole covers - Round
Stock code
Range
Overall frame
(A)
Clear opening
(C)
Frame depth
(E)
Base opening
(F)
Datasheet
My Wrekin
DMS1D4/60D/KU
Force
Ø 850 mm
Ø 610 mm
100 mm
Ø 690 mm
Available options and accessories
Options
Locking
Ventilation Holes
Enhanced Anti-slip Coating
Alternative Badging