Our products
SafeSeal™ manhole covers
Our Safeseal range of manhole covers has been designed and manufactured to be suitable for use in locations of pedestrian and pedal cycle traffic only. They are for use in a Group 1, Class 15 environment.
All fully comply with BS EN 124:2015 and are Kitemarked by BSI keyway symbol.
The cover contain a patented safety keyway prevents accidental disengagement during the lifting operation and is compatible with standard D400 lifting keys.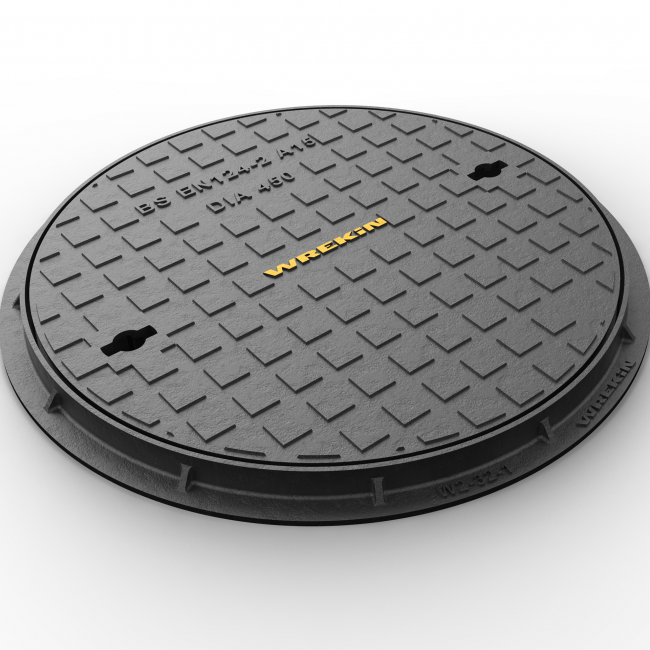 Indexed corners ensure correct orientation first time, every time.

Labyrinth seal helps to prevent odour escapes and water ingress.
Products
Manhole covers - Square
Stock code
Range
Overall frame
(A x B)
Clear opening
(C x D)
Frame depth
(E)
Base opening
(F x G)
Datasheet
My Wrekin
KMS1A2/9060
Safeseal
1,010 mm x 715 mm
900 mm x 600 mm
40 mm
950 mm x 650 mm
Manhole covers - Round
Stock code
Range
Overall frame
(A)
Clear opening
(C)
Frame depth
(E)
Base opening
(F)
Datasheet
My Wrekin
DMS1A2/45D/K
Safeseal
Ø 540 mm
Ø 450 mm
30 mm
Ø 490 mm
KMS1A2/45D
Safeseal
Ø 550 mm
Ø 450 mm
30 mm
Ø 450 mm
KMS1A2/45DCF
Safeseal
Ø 550 mm
Ø 450 mm
30 mm
Ø 450 mm