Legendary size
Hercules™ D400 manhole covers
Our Hercules range has been designed as the ideal solution when a very large manhole cover is required for a D400 Group 4 environment.
The products have been designed and manufactured to meet the requirements of BS EN 124:2015. Additionally, the covers include features designed to provide both greater operator safety and operational longevity.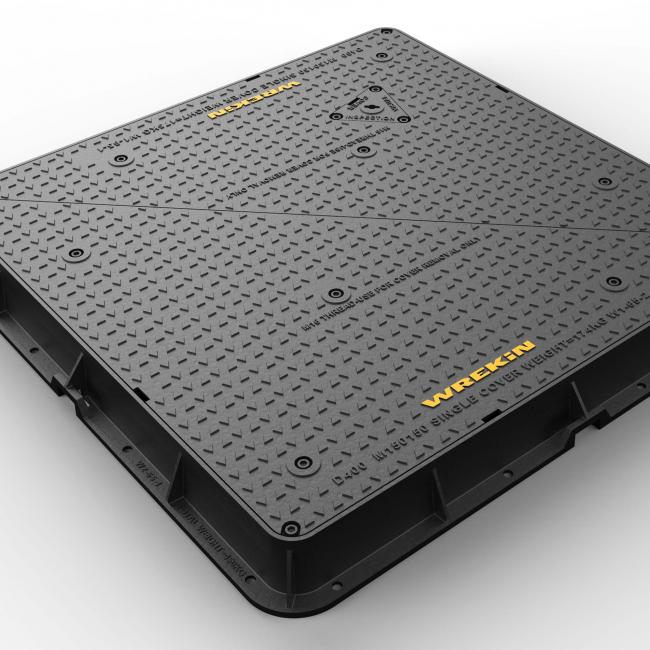 The double triangular covers are indexed to ensure correct orientation when fitting. The cover's M16 blank bolt can be replaced with a threaded lifting eye for mechanical lifting – the position of the bolt is at centre of mass, allowing safe and level lifts.
The covers feature a small window allowing for easy and safe inspection without the need to remove the entire cover.
Anti-flex covers prevent the causes of cover seating wear, eliminating excessive noise and catastrophic failure.

Specially designed cover support geometry reduces movement relative to the frame, minimising seating wear.

The enlarged frame corners help to dissipate loads onto the foundation, providing a longer service life and increased reliability.

Indexed corners ensure correct orientation first time, every time.

Inspection window allows safe and easy view into chamber.
Square or rectangular manhole covers
Stock code
Range
Clear opening
(mm)
Overall frame
(mm)
Frame depth
(mm)
Options
My Wrekin
DMT0D6/1212/4
Hercules
1,200 x 1,200
1,385 x 1,385
150
Available options and accessories
Options
Ventilation holes
Alternative badging
Sealing plate
Locking
M16 x 50mm Lifting Eyebolts
Accessories