Our products
H2GO™ Gully Chute Connector
H2GO provides a modern solution to kerb drainage. The range comprises of a kerb unit and gully chute connector which is designed to fix below a grating or kerb type gully unit with a primary catchment chamber and spigot outlet for onward pipe connection.
Ideal where gully grates are offset to gully pots or where direct surface run off is required. Providing high strength the H2GO gully chute connector fixes below a BS EN 124 500mm x 350mm gully grate or the H2GO kerb unit to act as a primary catchment chamber.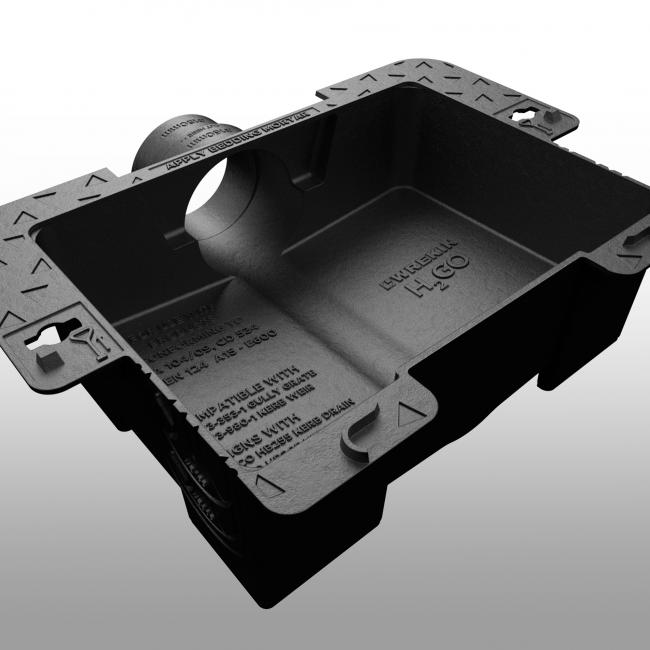 The gully chute connector is designed for installation on a concrete bed with an intermediate adjustment layer of mortar between the gully chute and grating or kerb unit before the backfill material and final road surface is applied. It can be used in a variety of configurations from group 1 up to group 4, where lanes have been added to the carriageway without moving existing drainage infrastructure.
Designed specifically to interlock with our H2GO kerb mounted unit and our 3 flanged 500x350mm gully grate assemblies to provide additional security.
The stepped spigot is suitable for 150mm and 160mm pipe sizes, making this product a highly adaptable solution. It also features channel drain breakout guidelines for ease of installation, a textured top surface to improve mortar engagement and lifting key holes for safer handling, with the entire product weighing less than 25 Kg.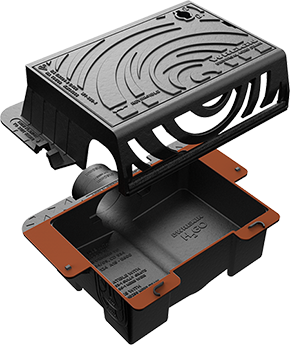 Products
| Stock code | Product name | Description | Datasheet | My Wrekin |
| --- | --- | --- | --- | --- |
| DGCC/6545/G | Gully chute connector | H2GO gully chute connector 655mm x 450mm x 185mm with 150mm and 160mm spigot sizes | | |
Compatible products
Wrekin kerb units and gully grates
DGHT0D4/5035/KH
Highway D400 3 flange gully grate clear opening 480mm x 320mm clear opening with 100mm frame depth
DGK115/HB/KG
H2GO D400 kerb unit 440mm x 305mm clear opening with 150mm frame depth
Aligns with ACO kerb drains
HB225
Kerb drain
HB305
Kerb drain