Our products
Unipak™
Unipak is a BBA HAPAS certified rapid-set, high-strength, polyester resin bedding mortar system developed, tested and proven for highway use. It is designed to prevent the most common causes of bedding failure, minimising disruption and inconvenience to road users while improving safety for operatives.
Suitable for all BS EN 124-2 applications, it can be used on its own or with Uniform chamber adjustment units which are made from the same two-part polyester resin material, setting to form a highly durable structure.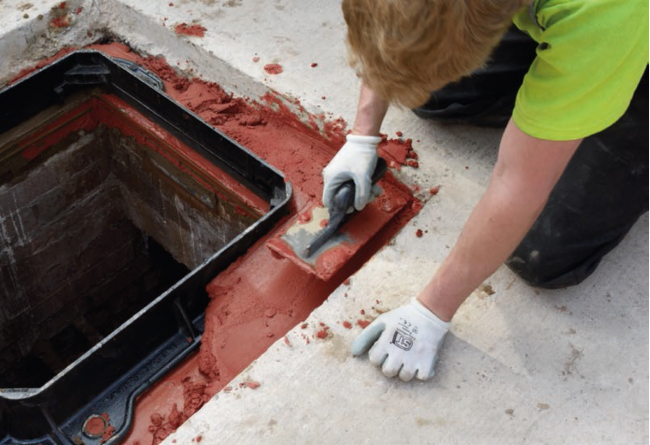 Unipak avoids many of the problems associated with cement-based mortar and allows rapid road opening, curing in as little as 25 minutes. Simply mix both parts together for a consistent and repeatable result. Removing issues of performance loss due to operator judgement or personal mix preferences.
With a very low slump factor, compared with other mortars, Unipak provide ironwork with support even in an uncured condition. Its low notch sensitivity provides crack resistance, which could be caused by any sharp or angular ironwork or tools.
Unipak's unique colour allows it to be easily identified. Available in three tub sizes (6.5, 12.5 and 25Kg), it is easy to select the right for small surface boxes up to the largest of covers, reducing waste to a minimum.
Comprised of two components:
Unipak rapid curing resin-based mortar to replace traditional poor-performance cement mortar.
Uniform multi-sized adjustment units, replacing ad-hoc packing methods with bricks, wood or other unsuitable materials.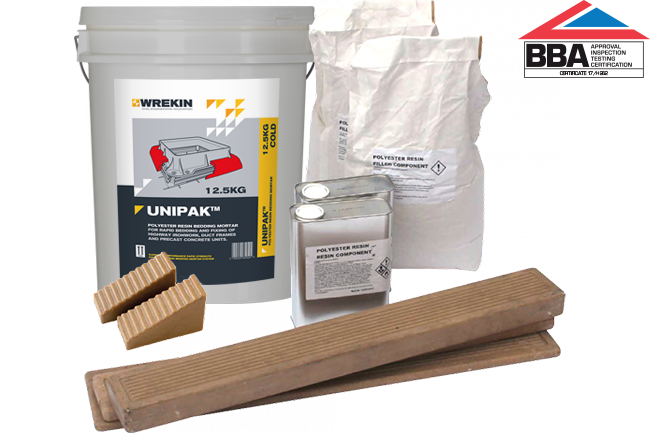 Overcome the common causes of bedding failure with Unipak
Conventional packing and cement bedding just aren't good enough for the job. Unchanged methods over a hundred years have to change. It's more important than ever to have an emphasis on service life, long-term economies and rapid road opening after work completion to reduce carbon emissions. Unipak provides the solution to these problems and more.
WRc (Water Research Centre) and Nottingham University research observed that:
of ironwork failures suffer foundation issues.

89

%

of cases, foundation issues are the sole cause of failure.

44

%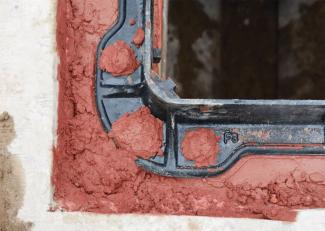 Unipak benefits
Simple to use
Easy to mix, manipulate and form. Unipak has low notch sensitivity and high slump resistance.
Meets and exceeds the standards
Exceeds CD 534, ideal for BS EN 124 applications (Group 1 to 4), certified for highway use by BBA HAPAS (Highway Authorities Product Approval Scheme).
BBA HAPAS certificate
Early road opening
Unipak cures rapidly, in as little as 25 minutes, reducing inconvenience to road users while minimising operatives' exposure to a potentially hazardous construction environment.
Easy installation and storage
Simple to install with conventional tools. Unopened containers can be stored in a cool, dry location, away from extremes of temperature for up to 9 months.

Rapid frame adjusment
Uniform chamber adjustment units
Uniform overcomes many of the common issues of alternative packing methods which are often manufactured from wood pulp, resulting in swelling and weakness over time. Additionally, their smooth surfaces mean lateral forces break the mortar bond and angular edges result in the cracking of surrounding brittle foundation materials.
Uniform chamber adjustment units are manufactured from the same materials as Unipak, ensuring compatibility and longevity. We offer chamber blocks in a 100mm width and two thicknesses (15mm and 25mm), which can be easily cut and fixed using conventional techniques and step wedges (up to 75mm in height, with 5mm increments)
Both materials interlock with bedding mortar and resist lateral forces with no reliance on friction or mortar adhesion. Manufactured from the same compound as Unipak, they form an integral part of the system. These adjustment units are suitable for BS EN 124 highway applications, groups 1 to 4.
Products
Stock code
Product name
Description
Datasheet
My Wrekin
UniPak Mortar

Expand to see the full range of UniPak Mortar

Hide the full range of UniPak Mortar

YPCR/U6.5
UniPak Mortar
6.5Kg Unipak rapid curing polyester resin mortar
YPCR/U12.5
UniPak Mortar
12.5Kg Unipak rapid curing polyester resin mortar
YPCR/U25
UniPak Mortar
25Kg Unipak rapid curing polyester resin mortar
Uniform

Expand to see the full range of Uniform

Hide the full range of Uniform

PC/UNIFORM/151076
Uniform
Uniform chamber adjustment unit 760mm x 100mm x 15mm
PC/UNIFORM/251076
Uniform
Uniform chamber adjustment unit 760mm x 100mm x 25mm
PC/UNIWEDGE/755012
Uniform
Uniform support wedge 120mm x 50mm x 75mm