Our products
TriStar D400 Gully Grates
The TriStar ductile iron hinged gully addresses many issues related to cost-effective products. The frame has been designed to suit all existing gully pot styles and will sit over a typical 450mm Ø circular or horseshoe chamber.
The frame has been designed with an anti-debris feature to stop the backfill material entering the chamber. This range of D400 Ductile Iron gully grates fully comply with BS EN 124:2015 and carries the British Standard Kitemark.
The captive hinge allows for a single unit opening with anti theft feature.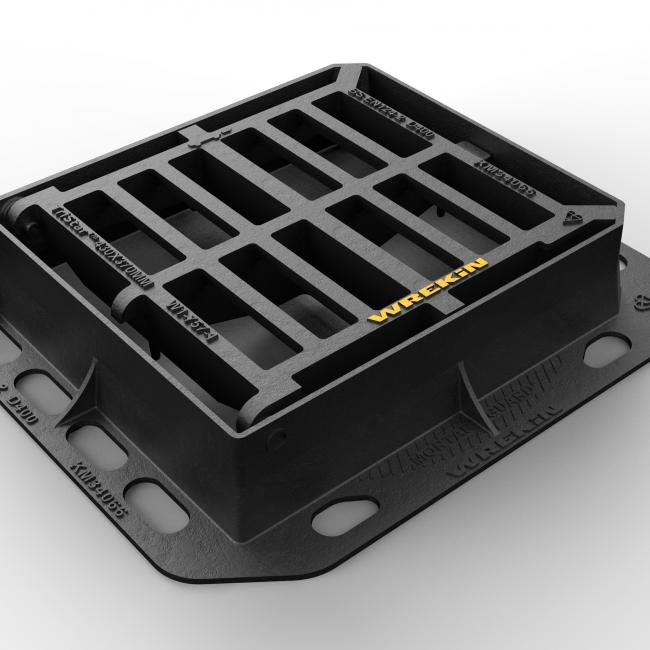 Products
Gully grates
Stock code
Range
Overall frame
(A x B)
Clear opening
(C x D)
Frame depth
(E)
Base opening
(F x G)
Waterway area
Datasheet
My Wrekin
DGH0D4/3633/KT
Tristar
505 mm x 425 mm
360 mm x 335 mm
100 mm
380 mm x 355 mm
750 cm²
DGH0D4/4337/KT
Tristar
580 mm x 465 mm
430 mm x 370 mm
100 mm
455 mm x 390 mm
1,050 cm²
DGH0D6/4337/KT
Tristar
575 mm x 465 mm
430 mm x 370 mm
150 mm
450 mm x 390 mm
1,050 cm²
DGH0D4/4545/KT
Tristar
575 mm x 520 mm
430 mm x 430 mm
100 mm
450 mm x 450 mm
1,250 cm²
DGH0D6/4545/KT
Tristar
575 mm x 520 mm
430 mm x 430 mm
150 mm
450 mm x 450 mm
1,250 cm²
Available options and accessories
Options
Screw locking
Enhanced Anti-slip coating