Our products
Unite™ D400 Gully Grates
Our premium Unite D400 gully grate combines new technology with proven features to deliver a super long-life and the lowest whole-life cost of any D400 gully grate.
The inclusion of a lower secondary grid promotes pedestrian and cycle safety whilst disrupting surface water flow to maximise the volume evacuated. The three-way hinge design enables it to be installed in any orientation and optional safety stays resist uncontrolled closing.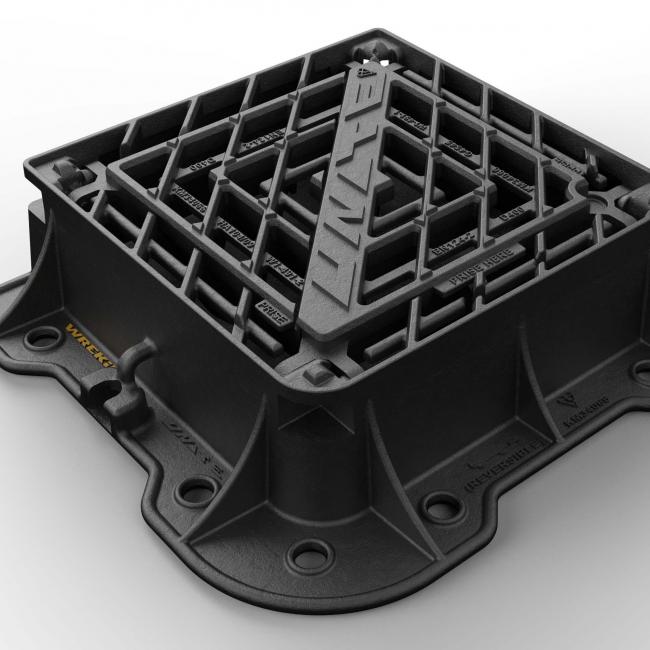 Anti-flex covers prevent the causes of cover seating wear, eliminating excessive noise and catastrophic failure.

Beam in beam design

Specially designed cover support geometry reduces movement relative to the frame, minimising seating wear.

The enlarged frame corners help to dissipate loads onto the foundation, providing a longer service life and increased reliability.

Hinged in 3 directions – product can fit in any required orientation.

Mechanical lifting points are provided.

Reversible hinge allows the grating to hinge with the direction of the traffic flow, improving safety.

Safety-stop hinges prevent covers falling once opened.

Pedestrian and wheel (including bicycles) friendly grating.
Products
Gully grates
Stock code
Range
Overall frame
(A x B)
Clear opening
(C x D)
Frame depth
(E)
Base opening
(F x G)
Waterway area
Datasheet
My Wrekin
DGHT0D4/4545/KU
Unite
670 mm x 580 mm
450 mm x 450 mm
100 mm
475 mm x 475 mm
1,440 cm²
DGHT0D6/4545/KU
Unite
670 mm x 580 mm
450 mm x 450 mm
150 mm
475 mm x 475 mm
1,440 cm²