Our products
Unite™ E600 Manhole Covers
Simply the best performing E600 manhole cover range available. The unique features designed into Unite combine to give it the longest life and lowest whole-life cost of any E600 manhole cover available. Designed and manufactured to exceed BS EN 124 and Highways England's Design Manual for Roads and bridges (DMRB) specification CD 534 v0.1.0, MCHW and Series 500.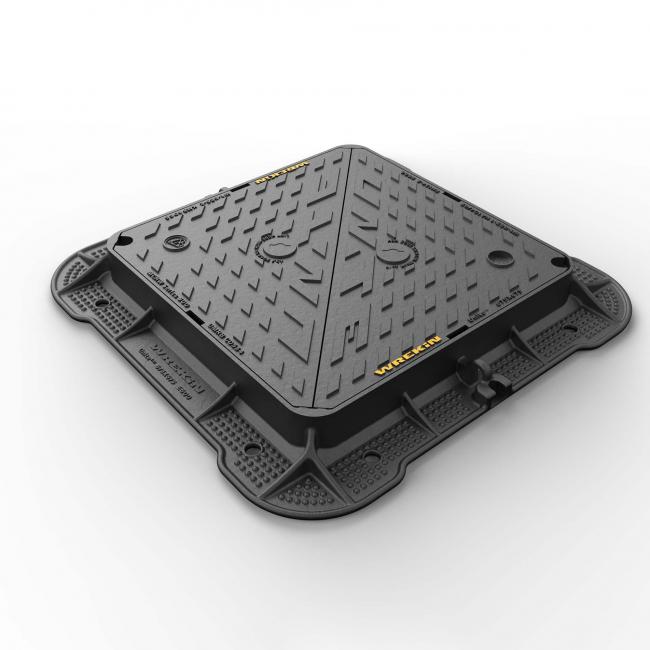 Building on the success of the Unite range we are pleased to now offer Unite E600 manhole covers, adding even more choice. With the addition of E600 products, Unite continues to be the most robust range for every type of civils project.
The increased strength of the cover and structure, as well as the enlarged frame corners that help to dissipate loads, work together to ensure the E600 has minimal movement in the ground – increasing its longevity. The increased flange area ensures a bearing pressure under test load of no more than 2.1N/mm2, adding another level of consideration for road environment requirements advised by Highways England.
The inclusion of a new anti-slide feature helps to prevent movement or sliding within the frame and minimises seat wear, also increasing the life of the product.
The Unite range as a whole offers the most mortar-sympathetic frame arrangement available, employing a textured flange underside, which utilises the mechanical properties of bedding mortar rather than just the adhesive characteristics. The flange edge is deliberately profiled to eliminate crack induction in surrounding bedding materials. All of this combines to ensure the longest operational life of any UK double triangular chamber top.


Engineered for an exceptionally long life:
The Unite range has been in service on highways for over 20 years
Over 500,000 installations with zero reported failures
A unique cover design substantially reduces seat wear
Frame features that are sympathetic to bedding materials
Fully compliant with BS EN 124-2:2015
Complies with CD 534 v0.1.0, DMRB, MCHW and Series 500
Kitemarked by BSI
100% recyclable product
D400 VS E600
There are several advantages available when increasing the load classification from D400 to E600, including:
Frame bedding area is increased, and thanks to the great frame design featured in Unite, it results in a reduction in applied compression bedding stress during trafficking. Increasing the longevity of the product and installation.
Stiffer covers for the same traffic loads. In Unite cover designs the benefit is a reduction in movement at the cover to frame contact points, which results in lower 'seating' wear and longer seating life.
There is a greater factor of safety against traffic loads.
E600 products are more likely to be resistant to unintended traffic loads e.g. pre-service loads as commonly found on construction sites which can result in damage to installed ironwork.

> 1,500 Annual Average Daily Traffic (AADT)?
With the introduction of CD 534 there were several key changes. This includes the requirement for E600 manhole covers to be installed in place of D400 covers where the Annual Average Daily Traffic (AADT) of light goods vehicles travelled on a road is greater than 1,500 in each direction.
As a "rule of thumb", most A roads will have an annual average daily traffic number over 1,500 light goods vehicles.
Full traffic data can be found for many locations around the UK on the Government website.

Textured flange surface
Fit and forget
Both the top and bottom of the flange surface provide a textured finish for bedding mortar to adhere to. This allows Unite to utilise the mechanical properties of bedding mortar, not just its adhesive characteristics. We also built in a bevelled frame edge as standard, this prevents sharp edges from cutting into and breaking mortar away over time, as vibrations from traffic are transferred into the foundation.
Thanks to these unique mortar-sympathetic, and advanced design features, Unite offers the lowest whole-life cost of any UK double triangular manhole cover.

Seal plates
Retrofit as standard
Low leak and No leak seal plates can be retrofitted to the Unite range as an optional extra. This enables contractors to simply return to an installation and install the required sealing plate with minimal disruption and inconvenience caused.
With the recent increase in the amount of foul waste entering storm drains, Unite provides a simple solution to reduce the impact of foul waste and surface water entering storm drains.
A high-pressure, no leak seal plate is also available as a factory fitted item.

Universal beam
A strength above the rest
Our high rigidity support beams, based on 'Universal Beam' technology, result in lower seat wear, improved longevity and lighter covers.
Developed using advanced computer modelling and testing, this technology, incorporated in bridge and building construction, offers maximum strength and stiffness, dissipating the effects of forces exerted from high volumes of traffic. It also ensures that wear of cover seating is minimised (where the cover meets the frame), which is a common cause of failure in many rival covers.
This all combines to provide the longest service life possible for the whole structure.
70+PSRV tested at top surface of chequer by UKAS accredited 3rd party.

Anti-flex covers prevent the causes of cover seating wear, eliminating excessive noise and catastrophic failure.

Mechanical lifting points are provided.

Indexed covers ensure correct fit first time, every time.

Specially designed cover support geometry reduces movement relative to the frame, minimising seating wear.
Products
Manhole covers - Square
Stock code
Range
Overall frame
(A x B)
Clear opening
(C x D)
Frame depth
(E)
Base opening
(F x G)
Datasheet
My Wrekin
DMT0E4/6060/KUE
Unite
880 mm x 880 mm
600 mm x 600 mm
100 mm
655 mm x 655 mm
DMT0E4/6767/KUE
Unite
945 mm x 945 mm
675 mm x 675 mm
100 mm
730 mm x 730 mm
DMT0E6/6060/KUE
Unite
880 mm x 880 mm
600 mm x 600 mm
150 mm
655 mm x 655 mm
DMT0E6/6767/KUE
Unite
945 mm x 945 mm
675 mm x 675 mm
150 mm
730 mm x 730 mm
Available Options and accessories
Options
Locking
Alternative badging (e.g.'SW', 'FW' etc.)
Ventilation holes
Enhanced anti-slip coating (70+ PSRV)
High pressure no leak sealing plate (factory fitted)