Our products
Unite™ D400 manhole covers
Simply the best D400 access cover range available in the market. Packed full of design features that combine to give Unite the longest life and lowest whole life cost of any D400 access cover available. Designed and manufactured to exceed BS EN 124 and Highways England's Design Manual for Roads and bridges (DMRB) specification CD 534 (formerly HA 104/09).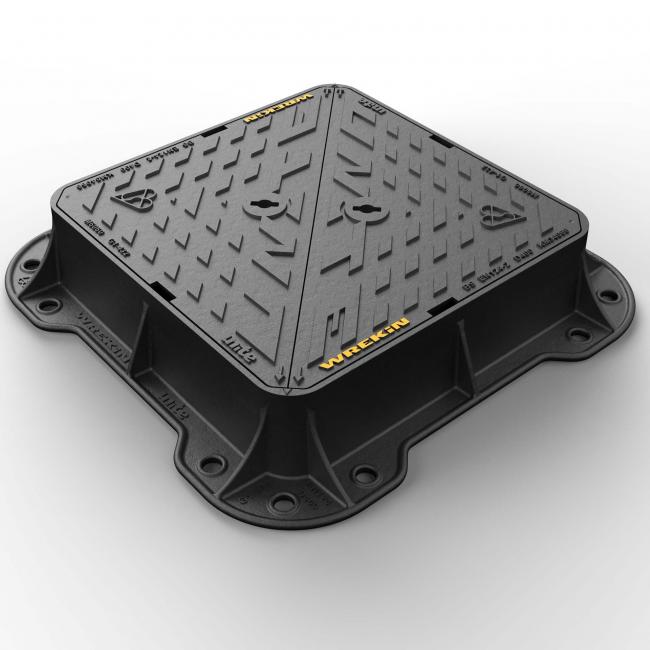 Over the course of 40 years we have a deep understanding of pavement and highway ironwork performance. Using the very latest tools and software, the Unite range of manhole covers have been engineered for extremely long life.
Key to Unite's longevity is minimising seat wear between covers and frames. The range has the stiffest cover structure in its class and on top of this, seating which is less vulnerable to any movement caused by cover flexing which may take place.
Unite has been designed to work sympathetically with bedding mortars, reducing stresses on the frame foundation, which has been identified by WRC as a major cause of manhole cover failure.


Engineered for an exceptionally long life:
In service on highways for over 20 years
Over 500,000 installations with zero reported failures
Unique cover design substantially reduces seat wear
Frame features that are sympathetic to bedding materials
Exceeds BS EN 124-2:2015
Complies with DMRB, CD 534 (formerly HA 104/09) and Series 500
Kitemarked by BSI 100% recyclable product
Internal accessory receiver
Unite incorporates an internal skirt with a sealing face to mate with different specifications of seal plate, depending on the application requirements.
Mortar 'gripper' system
Unite's 'tread' feature was developed in response to site observations, which often found mortar had failed to adhere to ironwork. The tread feature and accompanying mortar holes have proven more effective in interlocking with the bedding material than flat underside flange faces of other products.
Large cover seating area
To further increase asset life, resistance to wear has been increased by providing a large interface between covers and frame.
Locking bolt provision
In order to provide controlled access, manhole covers and gully gratings can be supplied with robust factory-fitted screw fasteners. A specifically formed recess is provided for this purpose
60+PSRV tested at top surface of chequer by UKAS accredited 3rd party.

Anti-flex covers prevent the causes of cover seating wear, eliminating excessive noise and catastrophic failure.

Specially designed cover support geometry reduces movement relative to the frame, minimising seating wear.

Enlarged frame corners help to dissipate, load minimising bearing pressure.

Mechanical lifting points are provided.

Safety keyway prevents accidental disengagement of the lifting key during the handling process.

Textured mortar engagement flange improves the bedding mortar grip to the frame, reducing lateral shift and mortar breakdown.
Products
Manhole covers - Square
Stock code
Range
Overall frame
(A x B)
Clear opening
(C x D)
Frame depth
(E)
Base opening
(F x G)
Datasheet
My Wrekin
DMT0D4/6060/KU
Unite
810 mm x 810 mm
600 mm x 600 mm
110 mm
630 mm x 630 mm
DMT0D4/6767/KU
Unite
885 mm x 885 mm
675 mm x 675 mm
110 mm
705 mm x 705 mm
DMT0D6/6767/KU
Unite
885 mm x 885 mm
675 mm x 675 mm
150 mm
705 mm x 705 mm
DMT0D6/1267/KU
Unite
1,465 mm x 920 mm
1,220 mm x 675 mm
150 mm
1,250 mm x 710 mm
DMT0D6/1867/KU
Unite
2,075 mm x 920 mm
1,830 mm x 675 mm
150 mm
1,860 mm x 710 mm
DMT0D6/6060/KUE
Unite
820 mm x 820 mm
600 mm x 600 mm
150 mm
655 mm x 655 mm
Available options and accessories
Options
Locking
Enhanced Anti Slip Coating (60+ PSRV)
Ventilation Holes
Alternative Badging
Factory fitted flood & odour control plate