Gully grates and kerb units
Gully grates and kerb units collect surface water allowing passage to the drainage system where it is then taken to a watercourse, storm drain or soakaway. Our solutions are designed to meet and exceed modern standards, providing enhanced performance, safety and reliability.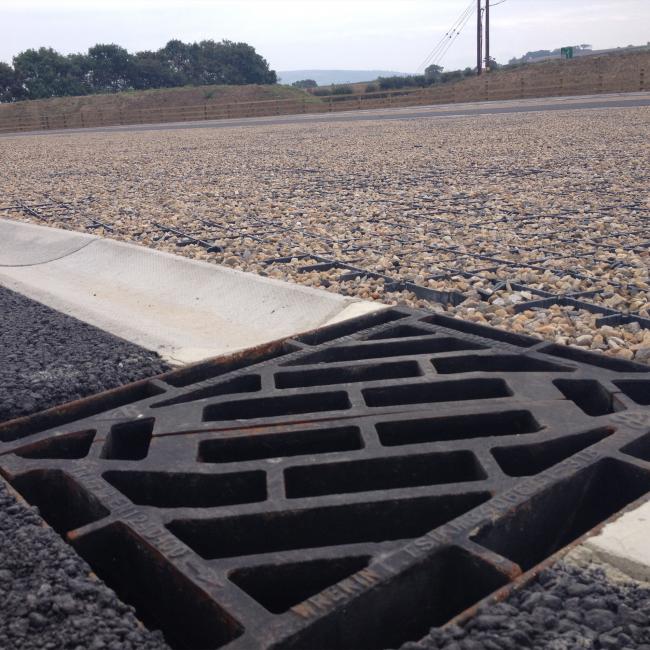 Ranges
Manufactured from heavy duty ductile iron, offering durable strength and long standing performance. Our extensive ranges include straight bar, dished, reversible hinged and the ultra durable Unite gully grating. Available in load classes from B125 to D400. Our products are certified by BSI to BS EN 124, we also have ranges conforming to CD 534, as well as many other industry specifications. All our ductile ironwork carries the Kitemark, meaning our products offer a trusted solution.

V Gully Grates
Our Highway V gully grate is available with a 1:5 shaped profile and is ideal for use in V channel drainage applications. As a safety-critical product, this design incorporates a spring lock, safety lifting keyway and captive anti-theft hinges.
Designed and manufactured to conform to Highways England's CD 534 Design Manual for Roads and bridges (DMRB) specification which replaced HA104/09. Suitable for Group 4 D400 applications.
Meeting the needs of National Highways CD 534
National Highways has updated CD 534, a significant set of its requirements for manhole covers and gully grates installed on their road network. First released in February 2020 and updated to version 0.1.0 as of May 2022.
All Highway and Unite access covers meet the requirements of CD 534 v0.1.0
Frame area
CD 534 now sets a minimum flange area of 190,000mm² for D400 and 285,000mm² for E600 covers, this equates to 2.1N/mm² as in HA 104/09.
Frame depth and weight
A 150mm frame depth is now required on motorways and all purpose trunk roads. A lower limit frame weight is also specified to ensure frames are stiff enough.
Skid resistance
The WRc test mehod is now the only accepted test method for calculating skid resistance on raised chequer. This test measures a small tyre's resistance to sideways slip caused by the cover surface.
D400 or E600
E600 manhole covers are to be installed in place of D400 covers where the Annual Average Daily Traffic (AADT) of light goods vehicles travelled on a road is greater than 1,500 in each direction.
Check road traffic statistics for AADT

The hard hat for your ironwork
Armadillo
Armadillo is a complete range of protector shells, designed to be placed over manhole covers and gully grates to provide enhanced protection during the construction phase.
Armadillo provides protection from construction site traffic, including tracked vehicles, and can be easily removed when the final surfacing is completed. This ensures manhole covers and gully grates can start their service life in 'as new' condition to optimise longevity.