Our products
TriStar D400 Manhole covers
The TriStar range of D400 ductile iron access covers fully comply with BS EN 124:2015 and carry the British Standard kitemark. TriStar also possesses some innovative design features that mark it out from the competition.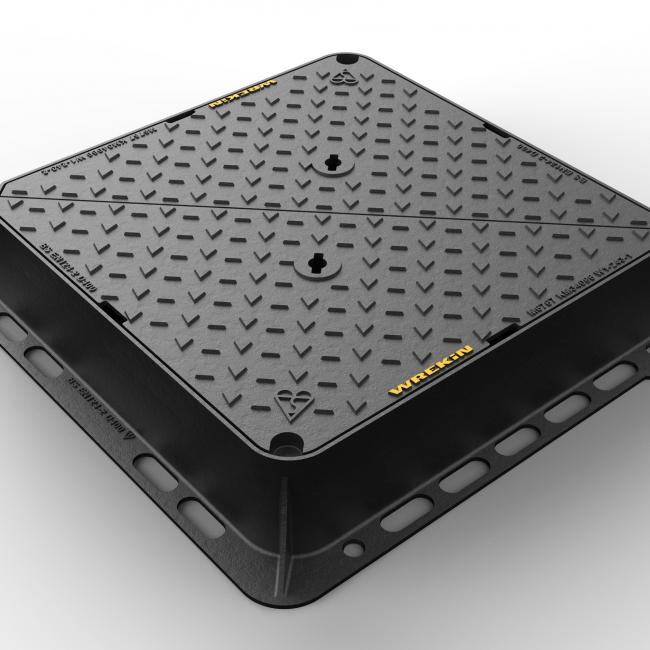 60+PSRV tested at top surface of chequer by UKAS accredited 3rd party.

Enlarged frame corners help to dissipate, load minimising bearing pressure.

Indexed corners ensure correct orientation first time, every time.

Safety keyway prevents accidental disengagement of the lifting key during the handling process.
Products
Manhole covers - Square
Stock code
Range
Overall frame
(A x B)
Clear opening
(C x D)
Frame depth
(E)
Base opening
(F x G)
Datasheet
My Wrekin
DMT0D4/6045/KT
Tristar
740 mm x 590 mm
600 mm x 450 mm
100 mm
610 mm x 460 mm
DMT0D4/6060/KT
Tristar
760 mm x 760 mm
600 mm x 600 mm
100 mm
620 mm x 620 mm
DMT0D4/6767/KT
Tristar
830 mm x 830 mm
675 mm x 675 mm
100 mm
700 mm x 700 mm
DMT0D6/6060/KT
Tristar
760 mm x 760 mm
600 mm x 600 mm
150 mm
620 mm x 620 mm
DMT0D6/6767/KT
Tristar
830 mm x 830 mm
675 mm x 675 mm
150 mm
700 mm x 700 mm
Manhole covers - Square to round
Stock code
Range
Overall frame
(A x B)
Clear opening
(C)
Frame depth
(E)
Base opening
(F x G)
Datasheet
My Wrekin
DMS1D4/60D/KTSF
Tristar
805 mm x 805 mm
Ø 600 mm
100 mm
650 mm x 650 mm
Manhole covers - Round
Stock code
Range
Overall frame
(A)
Clear opening
(C)
Frame depth
(E)
Base opening
(F)
Datasheet
My Wrekin
DMS1D4/45D/KT
Tristar
Ø 620 mm
Ø 450 mm
100 mm
Ø 500 mm
DMS1D4/60D/KT
Tristar
Ø 800 mm
Ø 600 mm
100 mm
Ø 650 mm
Available options and accessories
Options
Locking
Badged (e.g.'SW', 'FW' etc.)
Ventilation holes
Flood and odour control plate
Safety grille
Enhanced anti-slip coating
Accessories