Sealing plate
Our sealing plates are available in either a low-leak or no leak options. These products are designed to prevent surface water run off from entering the chamber and can be retrofitted to our Unite manhole covers (only stock codes ending KUE).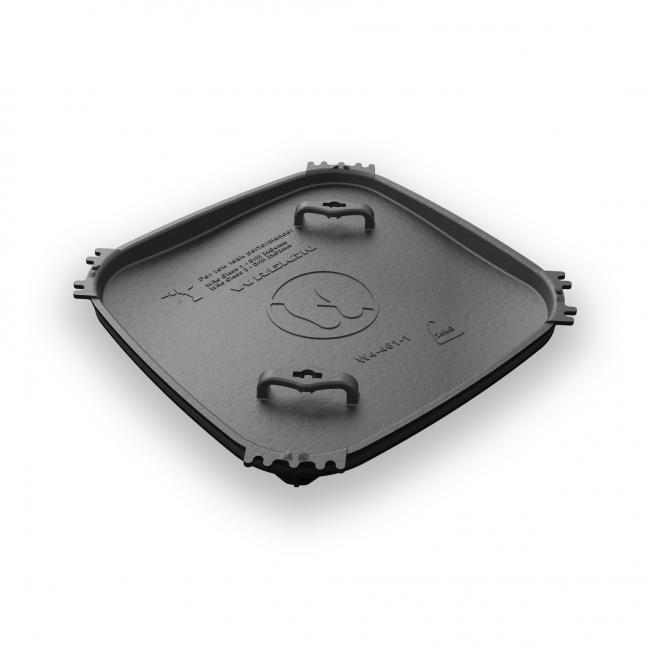 Seal plates are often exposed to harsh environments including potentially corrosive chamber condensates. The Unite retrofittable seal plate is manufactured from ductile iron, which sets it apart from the competition. Alternatives, which are often manufactured from GRP, can allow corrosion to form between the plate and frame. In fact, other materials can even accelerate corrosion. Our ductile iron assembly provides the best corrosion resistance, as the covers, frames and seal plates are all made from the same material.
Although we don't condone their use as working platforms, in-situ seal plates are structurally superior to GRP variants in sustaining loads from operatives standing on them, providing a significant health and safety benefit if the worst should occur (particularly over deep chambers).
The ductile iron seal plate provides active resistance to chamber pressures in comparison to lighter alternatives. Optionally, Unite seal plates can be factory bolted so that they demonstrate chamber pressure resistance.
The Unite no leak seal plate achieves a WRC Class 3 leakage classification of 0.8Litres/hour/m².
Products
| Stock code | Product name | Description | Datasheet | My Wrekin |
| --- | --- | --- | --- | --- |
| DEUESP/6060/LL | Sealing plate | Low leak 600mm x 600mm sealing plate with elastomer gasket seal and drilled hole | | |
| DEUESP/6060/NL | Sealing plate | No leak 600mm x 600mm sealing plate with elastomer gasket seal | | |
| DEUESP/6767/LL | Sealing plate | Low leak 675mm x 675mm sealing plate with elastomer gasket seal and drilled hole | | |
| DEUESP/6767/NL | Sealing plate | No leak 675mm x 675mm sealing plate with elastomer gasket seal | | |
Compatibility chart
Our sealing plates are compatible with the following products:
Product code
Description
Compatible products
DMT0E4/6060/KUE
Unite E600 manhole cover 600mm x 600mm clear opening with 100mm frame depth
DEUESP/6060/LL
DEUESP/6060/NL
DMT0E6/6060/KUE
Unite E600 manhole cover 600mm x 600mm clear opening with 150mm frame depth
DEUESP/6060/LL
DEUESP/6060/NL
DMT0E4/6767/KUE
Unite E600 manhole cover 675mm x 675mm clear opening with 100mm frame depth
DEUESP/6767/LL
DEUESP/6767/NL
DMT0E6/6767/KUE
Unite E600 manhole cover 675mm x 675mm clear opening with 150mm frame depth
DEUESP/6767/LL
DEUESP/6767/NL