Our products
Highway D400 manhole covers
Designed and manufactured to meet the enhanced requirements of Highways England's CD 534 (formerly HA 104/09) specification. The Kitemarked Highway range of manhole covers exceeds BS EN 124:2015 requirements and includes safety and specific design features required by Highways England.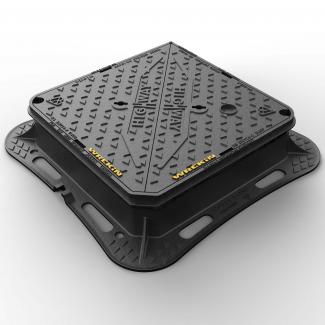 60+PSRV tested at top surface of chequer by UKAS accredited 3rd party.

Enlarged frame corners help to dissipate, load minimising bearing pressure.

Indexed corners ensure correct orientation first time, every time.

Mechanical lifting points are provided.

Can be retrofitted with a customer or application specific ID badge.

Safety keyway prevents accidental disengagement of the lifting key during the handling process.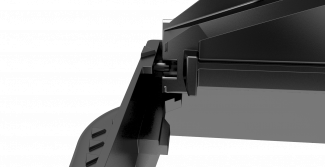 Hinge and Lift Out
HaloHinge
Highway HaloHinge D400 manhole covers offer all the benefits of the Highway range with the additional benefit of the Hinge and Lift Out mechanism, allowing the covers to be hinged to 100° and also completely removed with standard BS 7903 lifting keys when required.
Products
| Wrekin product code | Range | Overall frame size (A x B) | Clear opening size (C x D) | Frame depth (E) | Base opening size (F x G) | My Wrekin |
| --- | --- | --- | --- | --- | --- | --- |
| DMT0D4/1267/KH | Highway | 1,460 mm x 895 mm | 1,220 mm x 675 mm | 100 mm | 1,245 mm x 700 mm | |
| DMT0D4/4545/KH | Highway | 665 mm x 665 mm | 450 mm x 450 mm | 100 mm | 475 mm x 475 mm | |
| DMT0D4/6045/KH | Highway | 815 mm x 665 mm | 600 mm x 450 mm | 100 mm | 625 mm x 475 mm | |
| DMT0D4/6060/KH | Highway | 810 mm x 810 mm | 600 mm x 600 mm | 100 mm | 620 mm x 620 mm | |
| DMT0D4/6767/KH | Highway | 885 mm x 885 mm | 675 mm x 675 mm | 100 mm | 700 mm x 700 mm | |
| DMT0D4/7560/KH | Highway | 965 mm x 815 mm | 750 mm x 600 mm | 100 mm | 775 mm x 625 mm | |
| DMT0D4/7575/KH | Highway | 965 mm x 965 mm | 750 mm x 750 mm | 100 mm | 775 mm x 775 mm | |
| DMT0D4/9060/KH | Highway | 1,115 mm x 815 mm | 900 mm x 600 mm | 100 mm | 925 mm x 625 mm | |
| DMT0D4/9090/KH | Highway | 1,130 mm x 1,130 mm | 900 mm x 900 mm | 100 mm | 925 mm x 925 mm | |
| DMT0D6/1267/KH | Highway | 1,460 mm x 895 mm | 1,220 mm x 675 mm | 150 mm | 1,245 mm x 700 mm | |
| DMT0D6/4545/KH | Highway | 665 mm x 665 mm | 450 mm x 450 mm | 150 mm | 475 mm x 475 mm | |
| DMT0D6/6045/KH | Highway | 815 mm x 665 mm | 600 mm x 450 mm | 150 mm | 625 mm x 475 mm | |
| DMT0D6/6060/KH | Highway | 810 mm x 810 mm | 600 mm x 600 mm | 150 mm | 620 mm x 620 mm | |
| DMT0D6/6767/KH | Highway | 885 mm x 885 mm | 675 mm x 675 mm | 150 mm | 695 mm x 695 mm | |
| DMT0D6/7560/KH | Highway | 965 mm x 815 mm | 750 mm x 600 mm | 150 mm | 775 mm x 625 mm | |
| DMT0D6/7575/KH | Highway | 965 mm x 965 mm | 750 mm x 750 mm | 150 mm | 775 mm x 775 mm | |
| DMT0D6/9060/KH | Highway | 1,115 mm x 815 mm | 900 mm x 600 mm | 150 mm | 925 mm x 625 mm | |
| DMT0D6/9090/KH | Highway | 1,130 mm x 1,130 mm | 900 mm x 900 mm | 150 mm | 925 mm x 925 mm | |
| Wrekin product code | Range | Overall frame size (A x B) | Clear opening (C) | Frame depth (E) | Base opening size (F x G) | My Wrekin |
| --- | --- | --- | --- | --- | --- | --- |
| DMT0D4/4545/KHSQR | Highway | 660 mm x 660 mm | Ø 450 mm | 100 mm | 490 mm x 490 mm | |
Available options and accessories
Options
Locked
Badged ('SW', 'FW' etc.)
Ventilation holes
Flood and odour control plate
Safety grille
Enhanced anti-slip coating
Accessories