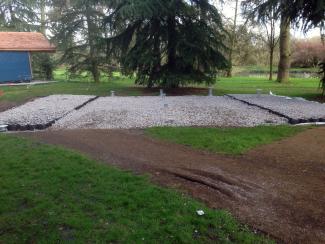 Colchester Cemetery and Crematorium
Colchester Borough Council
When Colchester Cemetery and Crematorium needed to increase the space visitors had to park their cars, its options were limited. The only potential area it identified was within a copse of established oak and maple trees.
Wrekin was approached to work with the project managers to create an attractive space for car parking around a central island containing two retained maple trees. The use of ProtectaWeb™ for this project enabled it to go ahead with minimal tree felling and maximum land use.
Work began on the project, which had a tight turnaround, on 5th January 2016 and was completed and signed off on 22nd March. The new car park was constructed by two previously untrained workers who were helped every step of the way during the construction process by Wrekin's technical support team.
Landscape Planning Group visited the site 11 times to ensure compliance with tree protection measures.
ProtectaWeb Tree Root Protection system is a proven no-dig method of enabling the creation of access ways or parking areas in close proximity to nearby trees, often protected by Tree Preservation Orders. The unique composition and strength of the ProtectaWeb cells, used in conjunction with Root-Tex 10 and Root-Tex 30 geotextiles ensures this can be done without compacting the soil, which can cause irreparable harm to the tree's life support system.