Our products
Geomembranes
Wrekin's range of high quality impermeable geomembranes are manufactured to current European standards by an industry leading Geomembrane manufacturer.
We offer a variety of roll sizes for each of the different materials to match individual site requirements. The selection of the correct material is vital to the performance of the membrane system, with this in mind our technical team can advise on product selection appropriate to the application and full installation method statements.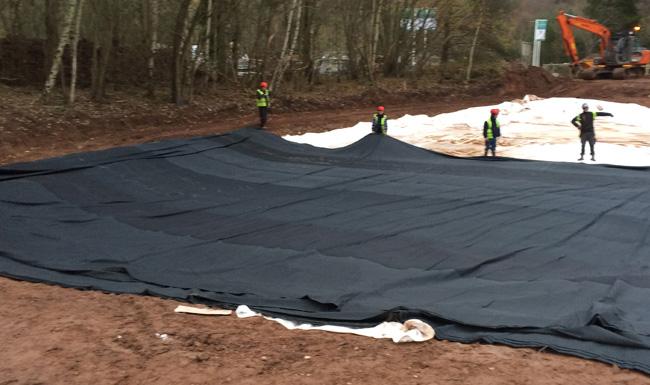 Let us help
We can supply the suitable tapes for lapped and taped jointed situations or we can offer a full design, supply and installation option providing the client with the comfort that the selected system will be installed correctly ensuring long term performance of the installed Geomembrane.
Wrekin Products also provide pre-formed welded liners reducing installation timeframes and costs of specialist machinery and labour associated with full installation packages.
Applications
Attenuation ponds and lagoons
Anaerobic digestion ponds
Waste management
Slurry lagoons
Trench lining
Soil based gas barrier
Ornamental lakes
Containment barriers
Root barriers
Japanese Knotweed barriers
Hydrocarbon barriers