Our products
Geomembranes
Geomembranes are one of the most versatile products used in SUDS systems, waterproofing, landfill sites and below ground drainage containment.
A highly reliable choice as a liner in Sustainable Urban Drainage (SUDs) applications, to help prevent leakage of liquids, geomembranes are an ideal solution wherever fluid movement needs to be controlled.
Available in a variety of roll sizes, our impermeable geomembranes are manufactured to current European standards and can be tailored for a huge range of civil engineering projects.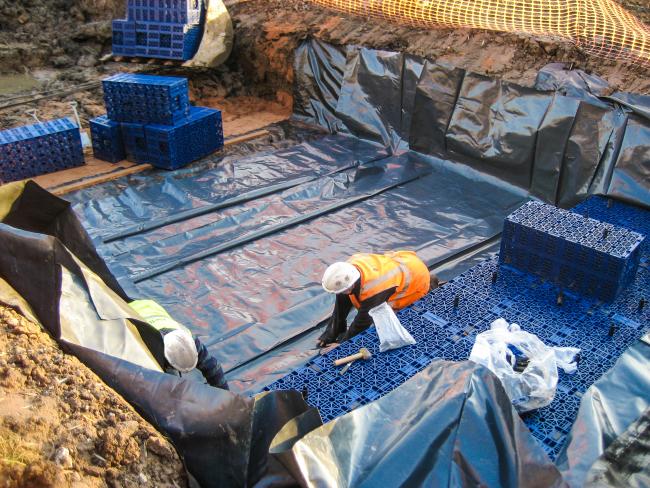 Let us help
We can supply the suitable tapes for lapped and taped jointed situations or we can offer a full design, supply and installation option providing the client with the comfort that the selected system will be installed correctly ensuring long term performance of the installed Geomembrane.
Wrekin Products also provide pre-formed welded liners reducing installation timeframes and costs of specialist machinery and labour associated with full installation packages.
Applications
Attenuation ponds and lagoons
Anaerobic digestion ponds
Waste management
Slurry lagoons
Trench lining
Soil based gas barrier
Ornamental lakes
Containment barriers
Root barriers
Japanese Knotweed barriers
Hydrocarbon barriers