Our solutions
Sustainable Urban Drainage systems
Sustainable Urban Drainage Systems (SUDS) are innovative and eco-friendly approaches to managing rainwater and runoff in urban areas. These systems aim to mimic natural water processes, helping to reduce flooding, improve water quality, and enhance overall urban environmental sustainability.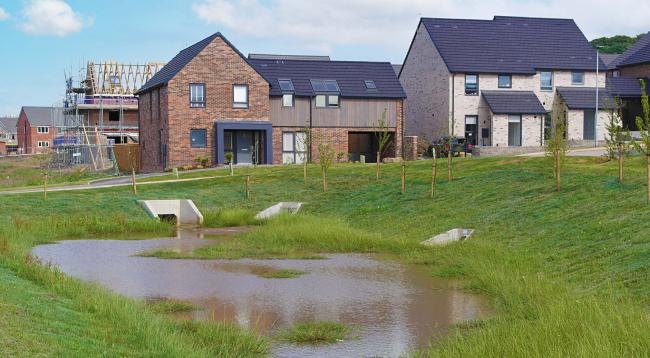 Our systems enable contractors to achieve their obligations under building regulations (H) more cost effectively than using alternative solutions. Our systems also provide the additional benefits of developing green spaces for residents.
Sustainable Urban Drainage Systems (SUDS) are designed to mimic nature and typically manage rainfall close to where it drops. The systems are considered to be environmentally beneficial, causing minimal or no long-term detrimental damage.
We have tailored a range of Geosynthetic products specifically aimed at promoting and prolonging SUDS.
Often the most efficient and effective method of control is by installing infiltration and/or attenuation tanks, which act as slow-release reservoirs for surface water run-off.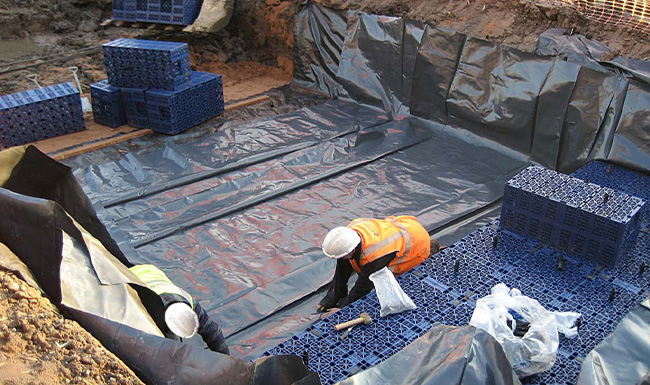 Our range of products to reduce the impact of unwanted extreme weather conditions includes water management systems, attenuation tanks – which act as slow-release reservoirs for surface water run-off – and SUDS-compliant permeable paving.
We also offer pond liners, which include prefabricated membranes and geosynthetic clay liners (GCLs), as well as bespoke headwall furniture such as grills, handrails and safety chains. Our woven and non-woven geotextiles – more simply described as protection fleeces – are a popular solution that protect attenuation tanks and stop problematic cases of impermeable membranes becoming punctured.
Choosing a complete system from a single, trusted supplier – like Wrekin – helps to ensure an effective and sustainable drainage solution across the whole project.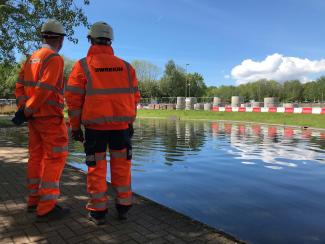 A supportive team
We have developed a strong reputation in the civil engineering sector thanks to our skilled teams wealth of experience. We offer the best technical expertise with exceptional customer support. Our team works with asset owners, developers, main contractors, ground workers and local authorities throughout a construction scheme's lifecycle, including:
Initial project support
Listening and working with customers to fully understand their requirements. We provide pre-tender and tender support to lend a competitive edge.
Product specification
Our technical experts and value engineering service means that you have access to the best advice and support.
Design schemes
Our talented team provides full design services, with the added bonus of supporting documentation and drawings.
Advice and site meetings
We understand the value of regular site meetings, helping to improve communication, giving installation advice and ensuring each project is completed successfully, right down to the project review

Success stories
Ornamental Pond at Fallow Park housing development
Fallow Park is an exclusive housing development on the outskirts of Cannock. The rural setting of the development and close proximity to Hawks Green Nature Reserve influenced the design and installation of shared recreation areas on the site.
A 1400m2 ornamental pond with green space was designed to enhance the development and provide a habitat for a variety of wildlife.The ground conditions and nature of the finished pond meant that an impermeable membrane would be required to line the pond.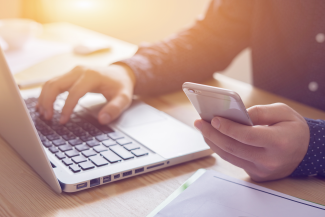 Contact us
Whether you are looking for live project support, or are in the initial stages of specification, we are always on hand and happy to help.