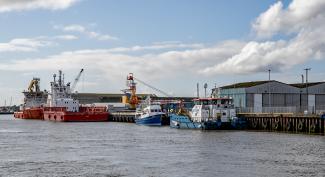 Great Yarmouth Outer Harbour
Great Yarmouth Outer Harbour, Norfolk
When Peel Ports Great Yarmouth was selected to be the base for the construction and installation activities for the Galloper and East Anglia ONE wind farms in the Southern North Sea, it was necessary to embark on a multimillion pound investment to upgrade the site.
A significant part of the works required was to create a 100,000m2 yard storage and marshalling area for the components of the 56 six-megawatt and 102 seven-megawatt wind turbines before they are shipped out to the wind farm sites.
The area comprised 72,000m2 of dredged sand that was compacted by High Energy Impact Compaction (HEIC) before 90,000 tonnes of granite type 1 was placed and compacted. The 360mm deep granite layer was reinforced with 2 layers of Wrekin's E'Grid™ 2020, one layer on top of the sand and the second 180mm above this.
The project was on a very tight timescale with completion of the port works due in March 2017 to enable wind farm construction to commence. Consequently product availability and swift delivery were key criteria that Wrekin had to achieve for Breheny.
It is anticipated that the Galloper wind farm will commence operations in March 2018, with East Anglia ONE commencing operation in 2019. When complete the two wind farms will generate enough energy for up to 836,000 homes a year.
Wrekin E'Grid is a premium quality 'punched and drawn' polypropylene biaxial grid that has been specifically developed to provide engineers with a cost effective solution. It is proven to give comparable reinforced soil performance to other market leading products where the superior optimised performance and associated longevity is required.