The hard hat for your ironwork
Armadillo
Armadillo prevents construction site traffic, including tracked vehicles, from damaging your ironwork, ensuring manhole covers and gully grates can start their service life in 'as new' condition.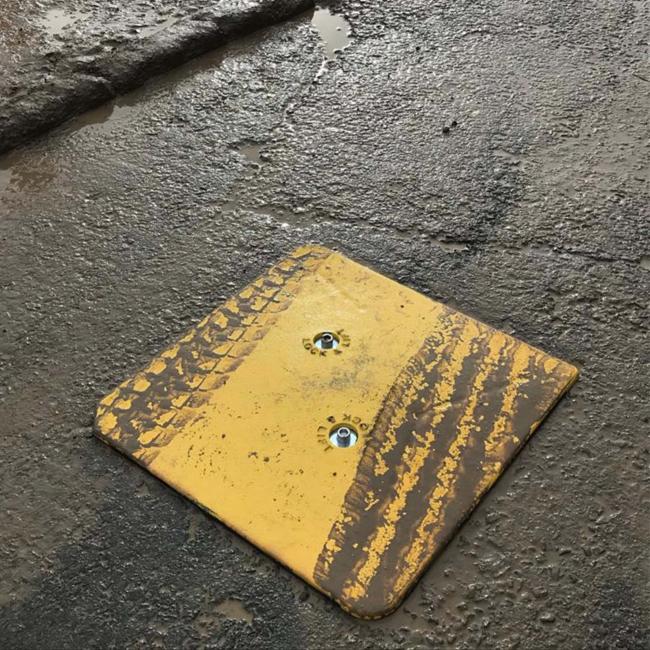 A complete range of protector shells, Armadillo is designed to be easily placed over manhole covers and gully grates, providing enhanced protection during the construction phase while preventing the need for premature repairs and replacements, saving time, money and carbon, while removing hassle.
Install once and protect, not twice and regret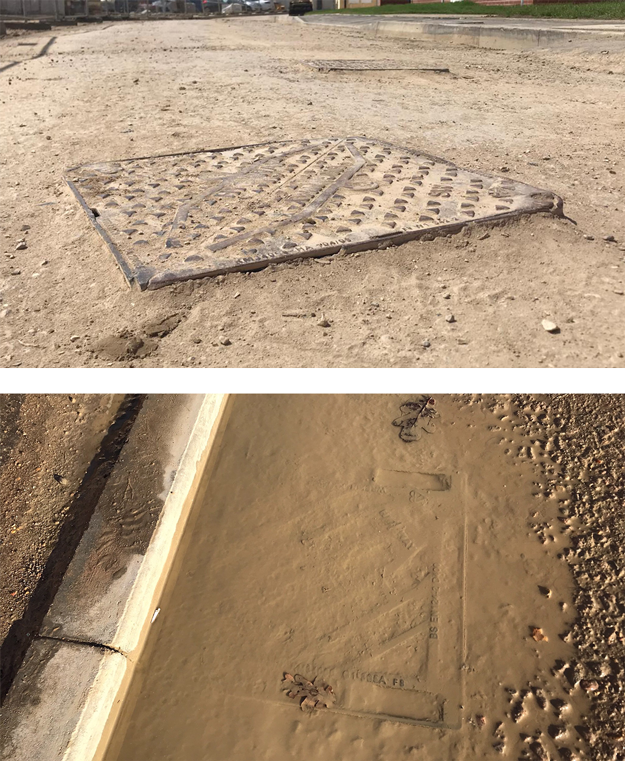 It's a common issue that ironwork intended for vehicles with pneumatic tyres can become damaged by heavy plant during a construction project. Working with customers across the country we have developed a cost effective and easy to use solution to this age old problem.
Manhole covers and gully grates are often installed during the early phases of a construction project. During this phase ironwork is exposed to extreme loads from heavy plant including, tracked vehicles, forklift prongs, digger buckets and more.
Cover and gratings installed in these situations were never designed to accommodate these scenarios. This can result in premature failure and additional costs in materials and labour to put them right before handover.
In addition, gully grates can often become clogged with silt and debris which can cause severe issues for the drainage system and the water course. This can result in high cleaning and maintenance costs, residual issues from long-term debris ingress and potentially significant fines.
Armadillo is tough...
Really tough
Armadillo provides protection from loads up to 60 tonnes*. That's more than enough protection from on-site construction machinery, ensuring that your ironwork will remain intact.
Additionally, Armadillo is designed to be reused on future sites, so you can gain the benefit of this protection again and again. But equally, Armadillo is designed to be sacrificial and can be completely recycled.
Get the right protection at the right time
Manhole covers and gully gratings are one of the first materials installed on a construction site, usually selected to suit the final traffic environment (Group 4 D400, pneumatic tyres). However, during the construction phase, they can be regularly exposed to much greater forces from tracked plant and machinery. This is a common cause of premature failure.
Remove the need to replace damaged ironwork
Jet washing or sucking out gully pots can be costly, but failed ironwork can cost thousands of pounds to completely replace.

However, the costs don't just stop with the materials and labour. There are many other costs related to the issues of failed ironwork including health, safety, environmental, project delays and disruption to residents.
Save time and reallocate resources
The task of replacing failed ironwork can be time consuming. But the overall time is just one small aspect of it.

The inconvenience can include having to reallocate resources, plus the additional time required to allow for bedding mortar to cure or set before the ironwork can be trafficked.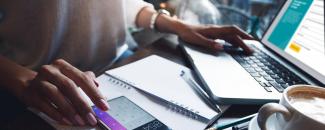 Find out how much you can save with Armadillo
You can save both time and money when using our Armadillo manhole cover protector shells. You no longer need to rip out and replace your existing ironwork due to premature failure.
Thanks to our handy calculator you can discover an estimation of how much time and money you can save!
What are the benefits of Armadillo?
Armadillo offers benefits for everyone with cost, time and effort savings. In fact, all involved in the process of specifying, procuring, installing and maintaining ironwork and drainage systems will achieve significant benefits thanks to Armadillo. 
No jet washing
Save time and money by eliminating the need to jet wash.
No cracked ironwork
Significantly reduces the risk of cracking to ironwork which can lead to rejection by adopting authorities.
No unidentified ironwork
The bold yellow coated shell and grille plates make it easier for operatives to identify and avoid ironwork.
No need for specialist teams
Removes the need for specialist teams and specialist equipment saving time, resources and money.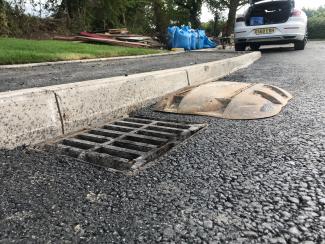 How can Armadillo protector shells help me?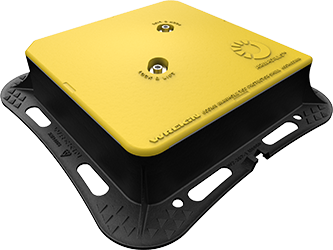 Manhole cover protection
Asset owners
Ironwork is protected from traffic and related defects, including cracking. This ensures ironwork can start its service life as new. Armadillo can also remove the potential for debris in the drainage system.
Groundworkers
Fully compatible with ClickLift, allowing manhole covers to be installed flush with the road surface and raised at a later date saving time and money.
House builders / Developers
Armadillo can prevent debris from entering the chamber and drainage system at the manhole cover.
Environmental, sustainability and Health and Safety benefits due to reduced remedial works, damaged products and the prevention of silt and pollutants in the drainage system.
General public
Armadillo prevents damage from being caused to residents cars and in combination with ClickLift minimises the inconvenience of road closures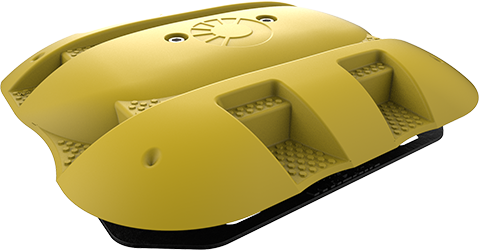 Gully grate protection
Asset owners
Allows ironwork to be installed proud of the road surface, as is commonly done, yet remain fully protected from side impacts and construction site traffic. Armadillo can also reduce the potential for debris in the drainage system.
Groundworkers
Takes only seconds for an unskilled operative to fit, and is just as quick to remove. The Armadillo Gully Grate Protector shell is designed to be re-used and is easy to transfer around a project as the phases develop.
House builders / Developers
Acts as a coarse debris barrier for gully gratings, ensuring that the drainage system remains in a good working order. Only smooth faces are presented to traffic reducing the risk of damage to site or residents' vehicles.
General public
Removes the need to close roads to replace damaged ironwork and the associated inconveniences caused to residents.
Products
| Stock code | Description | My Wrekin | |
| --- | --- | --- | --- |
| ARMMSHELL/6060 | Armadillo manhole cover protector shell 615mm x 615mm | | |
| ARMMSHELL/6767 | Armadillo manhole cover protector shell 690mm x 690mm | | |
| ARMGSHELL/4337 | Armadillo gully grate protector shell 645mm x 490mm | | |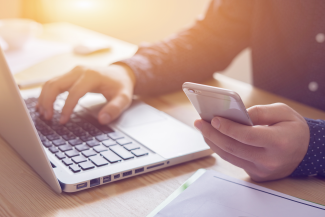 Contact us
Whether you are looking for live project support, or are in the initial stages of specification, we are always on hand and happy to help.